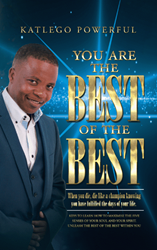 PRETORIA, South Africa (PRWEB) April 07, 2016
"You are the Best of the Best" (published by Partridge Africa) is a new book that author Katlego Powerful says will awaken something within every reader.
The book focuses on "harnessing the gem treasures within the senses of your soul and spirit," Powerful says, adding that the book "will assist anyone to stop procrastinating and begin to work on their dreams—mostly, it will arise something within to become the best of the best in all you do."
Powerful says his book is one of a kind because of its practicality and its ability to be used by anyone regardless of their religion, culture, age group or belief system. "The greatest challenge of many in this generation is the inability to access the relevant information to change one's story and how to apply the right information practically in their life experiences. This book is relevant because the teachings in it are practical and anyone can relate to them. The topics are relatable to every human being and in all walks of life."
An excerpt from "You are the Best of the Best":
When you die, die like a champion knowing you have fulfilled the days of your life.
"You are the Best of the Best"
By Katlego Powerful
Hardcover | 5 x 8in | 198 pages | ISBN 9781482860207
Softcover | 5 x 8in | 198 pages | ISBN 9781482860214
E-Book | 198 pages | ISBN 9781482860191
Available at Amazon and Barnes & Noble
About the Author
Katlego Powerful is a South African author and motivational speaker in private and public sectors. He is the preacher, founder and presiding pastor of Kingdom of Righteousness and Praise, a growing ministry in Southern Africa. He is married to Mpho Lekgau and they have two sons, Wisdom and Divine. He is also the author of two self-published books, "Authoritative Supernatural Prayers" and "Overcoming Rejection."
Partridge Africa is a supported self-publishing brand powered by Author Solutions LLC. Through Partridge, authors in Africa are given direct access to a comprehensive range of expert publishing services—consultation with and author support from a team of professionals, online book distribution, book availability in print and digital formats, cover and layout design, editing, and many others—that meet industry standards but are more accessible to the market. For more information, visit partridgepublishing.com/africa and follow @partridgeAfrica on Twitter for the latest news.