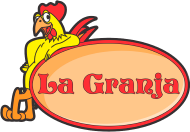 Miami, FL (PRWEB) April 08, 2016
La Granja has opened yet another location at 11735 SW 147 Avenue, Miami, FL 33196 to better serve aficionados of their delicious Latin American cuisine with roots from Peru. With already over 40 locations in South Florida, La Granja continues to provide satisfied customers with their specialties, like "Pollo a la Brasa," or Peruvian Rotisserie Chicken, and ceviche, a seafood dish popular in the coastal regions of Latin America.
La Granja Restaurants use their own unique recipe for preparing their delicious and flavorful Pollo a la Brasa. Their menu offers the whole, half or quarter chicken combined with rice and beans, or boneless chicken breast with rice and beans, or chicken wings with fries.
Ceviche is a traditional Peruvian dish comprised of a mixed assortment of fish, which can include squid, octopus, scallops, clams, shrimp, accompanied by sweet potato and Peruvian corn. La Granja serves two different recipes of ceviche as entrées on their menu: Ceviche Mixto, a mixed seafood dish where the raw seafood is "cooked" using only the juice from lemons and limes; and Ceviche de Pescado, which uses any type of whitefish, shrimp or other shellfish, spices and vegetables.
La Granja Restaurants prepare their food with fresh, healthy ingredients, all at an affordable price. It's a great place to bring the family, or to pick up a meal to eat at home. All meals are prepared fresh and are very affordable.
La Granja also supports the South Florida community by partnering with grassroots youth organizations like ASPIRA, honoring veterans, and offering scholarships to Florida residents of Hispanic and Latino descent to Palm Beach Community College.
For further information, please contact:
La Granja Corporate Office
3907 NW 49th Street Tamarac, Fl 33309
Phone: (954) 968-7988
info(at)lagranjarestaurants(dot)com
http://lagranjarestaurants.com/