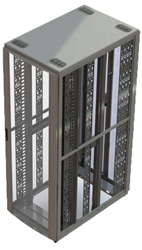 Farmingdale, New York (PRWEB) April 08, 2016
The new cabinet, named "Trident" is specifically designed and configured for data center network equipment such as Cisco switches. Trident is built on AFCO Systems T-Series frame, a fully welded tubular steel construction. T-Series is AFCO's most rugged and durable design and has a dynamic load rating of 3000 lbs and a static load rating of 4000 lbs.
"Many network racks are built off-site by third party integrators and then shipped to the site filled with expensive network gear.", said AFCO Systems CEO, Mike Mallia. "Trident is built like a tank, so it's ideal for these rack and stack projects."
"Our clients have also asked us to deliver a cabinet that addresses the challenges inherent to network applications. Namely; side to side airflow and super dense cable management. Trident is designed to handle both.", added Mallia.
Trident is 30" wide to provide extra room for airflow and cable management. The standard configuration includes a pair of AFCO's Power and Cable Management (PCM) brackets which create a configurable mounting area for power and network cabling.
The Trident Network cabinet will join AFCO Systems' Titan Sever cabinet as part of the READY SHIP program. READY SHIP cabinets are pre-configured at the factory and are available for expedited delivery anywhere in the continental USA.
Mike Mallia concluded, "Trident is the third new cabinet platform we have launched this year, along with our Titan and Polaris server cabinets. This is all part of our team's dedication to respond to the needs of the market."