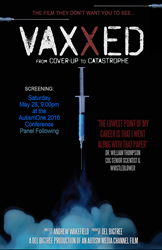 By showing Vaxxed, AutismOne honors American families by providing parents with valuable information....
Los Angeles, CA (PRWEB) April 07, 2016
In the recently released "Community Report on Autism" from the Autism and Developmental Disabilities Monitoring Network of the CDC, we learn: "About 1 in 68 or 1.5% of 8-year-old children were identified with ASD based on tracking across multiple areas of the United States."[1]
For the past 14 years, AutismOne has stood at the forefront of integrative medicine education regarding children who have a diagnostic label of autism. AutismOne has hosted United States congressmen, a Nobel Prize laureate, Robert F. Kennedy, Jr., and many of the most innovative, expansive-thinking physicians and healthcare professionals of our time. The vision of AutismOne has provided parents with resources and education from diverse areas, and AutismOne has endeavored to be a comprehensive resource, covering biomedical research and treatments, educational and adjunct therapies, integrative treatments, complementary-alternative medicine, advocacy, and behavioral approaches. This year's conference features approximately 150 speakers and panelists, spanning the 5 days of May 25-29, 2016. Additionally, there will be special events, including a screening of the film VAXXED: FROM COVER-UP TO CATASTROPHE, on Saturday night, May 28, 2016, with a one-hour panel discussion following.
About the movie: In 2013, biologist Dr. Brian Hooker received a call from a senior scientist at the CDC, who led the agency's 2004 study on the measles-mumps-rubella (MMR) vaccine and its link to autism. The scientist, Dr. William Thompson, indicated that crucial data was omitted in their final report that revealed a causal relationship between the MMR vaccine and autism. This scientist also provided the confidential data destroyed by his colleagues at the CDC. This documentary examines the evidence behind an appalling cover-up. Interviews with pharmaceutical insiders, doctors, politicians, and parents of vaccine-injured children reveal an alarming deception that has contributed to the skyrocketing increase of autism and potentially the most catastrophic epidemic of our lifetime.[2]
Said Robert J. Krakow, an attorney-at-law and parent: "By showing Vaxxed, AutismOne honors American families by providing parents with valuable information, however controversial, consistent with AutismOne's mission. The cancellation of Vaxxed by certain film festivals demonstrates how corporate interests allied with public health suppress open discussion of difficult topics. In screening Vaxxed, AutismOne upholds the American value of free speech and open dissemination of information, a sacred moral responsibility dishonored by others who, in their misguided efforts to hide information, have abused their public trust."
Please see http://www.autismone.org/content/vaxxed-cover-catastrophe-movie-screening.
The AutismOne 2016 Conference will be held at the beautiful Loews Chicago O'Hare Hotel. For more information about the conference lectures, special events, and to register, please visit http://www.autismone.org.
References:
1. http://www.cdc.gov/ncbddd/autism/documents/community_report_autism.pdf
2. http://vaxxedthemovie.com/