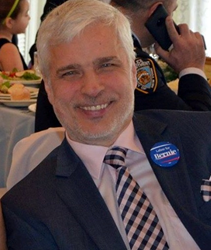 A Trump Rally on Staten Island would shatter all records. It would be YUUUUGE!
(PRWEB) April 07, 2016
Senator Bernie Sanders' win in Wisconsin has made the New York Primary the focus of the Presidential campaign. The outcome in New York is likely to be determinative: a win for Hillary Clinton would all but make her lead insurmountable. An upset by Bernie Sanders would dramatically alter the course of the campaign. A landslide for Trump could put him back on track for the magic 1237 Republican delegate number. On Staten Island, residents are engaging in a wide range of activities to get ready for the April 19 New York Primary Election in the hopes that Presidential Candidates will travel to the New York City outer-borough.
"The opportunity to put Staten Island on the campaign map is here and now. Active campaigning is how political relationships are made and reinforced," said Lawrence E. Gilder, a local Staten Island political strategist and partner in Dark Penguin Strategies, LLC, who himself is eyeing a run at the NY-11 Congressional Seat. "Active campaigning is one way how things can get done in and for Staten Island" Gilder said.
Democratic Party District Leader and New York Labor Coordinator for the Bernie Sanders campaign Tom Shcherbenko appears the know a thing or two about "active campaigning". "Staten Island Feels The Bern!" said Shcherbenko, who has attended and coordinated attendance at several major local rallies for the Sanders Campaign and grass roots efforts including phone banking.
Local "Game of Thrones Attorney" and Democratic County Committee member believes that a failure to actively campaign could be a missed opportunity for all of Staten Island. "When important elections take place, I always ask: 'Where are the lawn signs? Where are the rallies? Where is the outreach to activists on all sides directing them how to get involved in the Presidential campaign?'" Luthmann said. He continued, "Sitting in an office doesn't put Staten Island on the political map. Will this opportunity go by the wayside? Not for me and not for a critical mass of Staten Islanders. I am putting up signs and talking about issues, and so are many of my friends and neighbors from all parties and political persuasions. That is how we get on the map. That is how we get major candidates here."
In recent months, Staten Island was visited by Hillary Clinton and then-candidate Ben Carson, who remarked "I think it is a pretty cool place." It is unclear whether any of the Presidential Candidates will be making a Staten Island stop prior to the Presidential Primary election.
Many Staten Islanders still remember what arguably remains the Island's most famous campaign stop: JFK's visit in 1960. Then-candidate John F. Kennedy rode the Staten Island Ferry and then delivered a thirty minute speech that was heard by a reported 15,000.
Should a certain Presidential Candidate come to Staten Island before the Primary Election, crowds rivaling the JFK stop may congregate according to Bobby Zahn, one of the co-chairs of Staten Islanders for Trump. "Donald Trump is very popular on Staten Island, having been endorsed by several elected officials and having won universal popular acclaim from so many. A Trump Rally on Staten Island would shatter all records. It would be YUUUUGE!" Zahn exclaimed.
The New York Presidential Primary for both Democrats and Republicans will take place on Tuesday, April 19, 2016.
Dark Penguin Strategies, LLC, a strategy group in Staten Island, New York, is responsible for the content of this release. Dark Penguin Strategies, LLC, and its partners are dedicated to promoting political discourse on and around Staten Island.