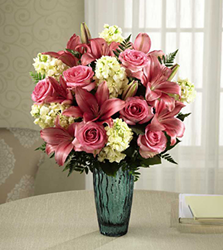 Just like flowers, Moms come in a variety of looks and personalities with favorite colors, blooms and style
HAYMARKET, VA (PRWEB) April 09, 2016
Since the inception of Mother's Day in 1908, flowers have played a prominent role, and since the launch of Bloomstoday.com, it has kept its finger on the pulse of contemporary floral trends and traditions for this special day. The Virginia-based corporation, which delivers across the country, is releasing its Mother's Day bouquet collection for 2016 in advance of the most busy month of the year for florists. The National Retail Foundation reports Mother's Day sales of around $14 billion, and a significant sum is in flowers.
Just like flowers, Moms come in a variety of looks and personalities with favorite colors, blooms and personal style, so Bloomstoday.com offers a dozen premium bouquets as different as every mom with the common bonds of beauty, gentleness and grace. Colors run the spectrum of the rainbow with enchanting variations of the primary colors ~ red, blue and yellow ~ along with delightful woodland greens, citrus and coral oranges and amethyst and violet purples.
In a stylish twist on the tissue wrapped bouquet, bloomstoday.com has raised the bar with designer vases in colors that accent the flower arrangement and stay on as a keepsake container that can blend in or accent any decor. Tall, short, round, thin -- the vases, of course.
BloomsToday is a family owned and operated business with nearly a century in the floral industry, and each of the bloomstoday.com professionals are knowledgeable, well-trained, amicable and helpful. Customer service is one hallmark of the business, and everyone on staff takes pride in its partnerships with top floral networks like FTD, Teleflora and 1-800-FLOWERS to carry the very best in fresh, hand-picked, long-lasting, beautiful, fragrant flowers.
These exquisite Mother's Day vases hold flowers ranging from uniquely clustered hydrangeas to the loveliness of roses and whimsy of daisies and sunflowers. Several include mini-carnations to lend authenticity to the carnation being the official flower of Mother's Day. Spring lilies dominate a couple vases for their extraordinarily large petals, and a monochromatic bouquet of roses in shades of pink or the variety of passionate plum colors exudes the charm of a feminine personality. Garden and meadow style bouquets are well-suited to the outdoorsy type who might wander fields of wildflowers with a basket come summer.
Mother's Day is open to shower with flowers any special woman in your life ~ an aunt, neighbor, mother of your children, grandmother or special friend who has lent that mother-like shoulder, wisdom and guidance from time to time. Bloomstoday.com is online 24/7 and handles every floral delivery with tender loving care. Bloomstoday.com. 1-800-359-5309. All orders are backed by a 100% guarantee.
Visit http://www.bloomstoday.com for more information.
For the latest updates and news, "Like" Blooms Today's™ Facebook fan page, https://www.facebook.com/bloomstoday, or follow us on Twitter, http://twitter.com/BloomsToday.
About Blooms Today
Blooms Today™ has taken the local flower shop feel and deep understanding of customer needs to a nationwide floral delivery service provider level. With a deep commitment to exceeding customers' expectation for quality, value and extraordinary service, Blooms Today has served millions of customers nationwide for more than 15 years. From a small local floral business with roots that stem back to the early 1920s, co-founders George Dukas and Don Mayer in 2000 have built a family business that is known as Blooms Today.
Blooms Today™ offers a wide variety of Elegant Plants, Beautiful Lilies and Gorgeous Birthday Flowers and is your one-stop shop for all your floral needs. Orders are delivered by our local preferred florists through partnerships with the top three floral networks, FTD, a relationship in place since the 1930's, 1-800-Flowers, and Teleflora or handpicked from select farms in South America, Holland and from California. Blooms Today™ continues with a promise to provide excellent customer service and superior quality to every customer. Blooms Today™ prides itself in the ability to provide expedited service to customers and offers a 100% money back guarantee on all products. Through its online store and website, Blooms Today™ offers an affordable "best-of-class" experience to bring joy to the lives of loved ones. Creating Smiles Across America!