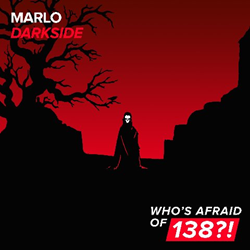 The musical effect of "Darkside" is like a dominatrix's whip crashing down.
New York, NY (PRWEB) April 08, 2016
MaRLo, the clean-faced, blue-eyed trance DJ and producer comes out with the choicest in hard-hitting trance sounds with "Darkside" (Who's Afraid of 138?!). "Darkside" is the flip-side of the sub-genre of electronic dance music known as trance, which is perhaps more widely known in recent days for its more euphoric, uplifting style. The faster, harder, more sinister-sounding style of trance dubbed by MaRLo as "tech-energy" is connecting with increasingly jaded festival-goers in ways not widely seen in the U.S. MaRLo's "Darkside" is out now.
The Original Mix of "Darkside" hits at the intro with a very hard 4/4 beat and whap!-whap!-whap!-whap! effects that evoke images of a wet sail slapping furiously against the wind. This track holds a darkly debauched energy that's still considered trance music but with a snarling appeal reminiscent of the '90's Belgian and American post-industrial/techno band, Lords of Acid. When MaRLo debuted "Darkside" on Armin van Buuren's 'A State of Trance' (ASOT) stage at this year's Ultra Music Festival in Miami, the track was met with howling roars of approval from the capacity crowd. The vibe of "Darkside" can be described as speedy, black and wicked, like a turbulent sonic storm bearing down while a sole strobelight pulses and zaps. The breakdown on the track is maniacally splendid and twisted, intoxicating music-lovers from every nation. Minor-key chords and progressions are a signature of MaRLo's tech-energy sound. The Radio Edit maintains the essence and character of the Original Mix wrapped into a tighter construction, getting to the syncopated, downbeat section sooner. The Extended Mix draws-out more of the same intense flavor and seems intently poised to wreak havoc on the clubbing masses. The musical effect of "Darkside" is like a dominatrix's whip crashing down, the aural equivalent of rough sex.
Hear MaRLo, "Darkside," here: https://WAO138063.lnk.to/Darkside
 
Watch the official music video, here: https://youtu.be/cZnuFpsI-AI
MaRLo (real name: Marlo Hoogstraten) is a Dutch-born electronic dance music producer from Australia. His unique style – affectionately dubbed "The MaRLo Sound" – derives from the sub-genres of tech-trance, hard-trance and the big room sound. MaRLo considers as his musical influencers such accomplished fellow DJs and producers as Armin van Buuren, Aphex Twin and The Prodigy. In the recording studio, MaRLo has lent his magic touch to remixes for fellow trance heavyweights, Armin, Dash Berlin, Ferry Corsten, W&W and Gareth Emery. As a live performer, MaRLo delivers explosive physical energy and showmanship. MaRLo is best known for his international hits, "Haunted" featuring his wife, the vocalist Jano, and "Atlantis," the latter peaking at the #1 chart position on Beatport last year. But perhaps the track for which MaRLo is most instantly defined in the eyes and ears of today's youth is his original production, "Visions," a monstrous thriller released in 2012. Armin himself commented that, "MaRLo knows how to program the best lead sounds."
For more information on MaRLo, Andrew Rayel, Thomas Gold, Giuseppe Ottaviani, Sylvia Tosun, Lil Nate Dogg, EDM Rap Pak, Sovi, Disco Killerz & Sarah Charness, Underground Sol and artists like Armin van Buuren contact EMILY TAN Media Relations (U.S.), +1(917) 318-3758, EmilyEmilyTan@aol.com. Follow EMILY TAN Media Relations on Twitter @EmilyEmilyTan and LinkedIn http://www.linkedin.com/pub/emily-tan/4/342/70b.
# # #