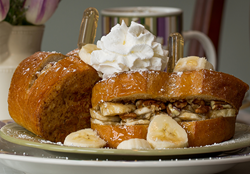 Our popular Best B&B Breakfast Tournament highlights the beautiful dishes that travelers can enjoy at B&Bs in North America.
Austin, Texas (PRWEB) April 08, 2016
Citrus-Berry Breakfast Pizza Takes Second in BedandBreakfast.com's Fifth-Annual Best B&B Breakfast Recipe Challenge
For the second year in a row, French toast has triumphed over poached eggs, pancakes and pastries to snag the coveted title of Best B&B Breakfast. Bananas Foster-Style Banana Pecan Stuffed French Toast from Weller Haus Bed, Breakfast and Event Center in Bellevue, Ky., beat Citrus-Berry Breakfast Pizza from Cedar Crest Lodge in Pleasanton, Kan., to win the top spot in the fifth annual BedandBreakfast.com Best B&B Breakfast Tournament.
Rounding out the four finalists are Sweet Georgia Peach, Blueberry and Moonshine Flambé Over a Short Stack of Johnny Cakes by Open Gates Bed & Breakfast in Darien, Ga., and Sausage Waffles with Blueberry Sauce, by last year's winner Farmers Guest House in Galena, Ill.
"The Banana Pecan Stuffed French Toast is the most requested item on our menu of nine entrees because I think our guests' 'sweet tooth' kicks in when they stay here," says Leanne Saylor, innkeeper at Cincinnati's Weller Haus. "We were looking for a way to kick it up a notch so we added spiced rum and turned it into a Bananas Foster-style breakfast."
This is the second year in a row that French toast won the tournament. Last year, Apple Cheese Stuffed French Toast with Midwest Berry Sauce from Farmers Guest House took first place.
BedandBreakfast.com's Best B&B Breakfast Tournament contest is a bracket much like the NCAA Basketball's March Madness, with BedandBreakfast.com's Facebook fans voting on their favorites among 16 finalists.
"Our popular Best B&B Breakfast Tournament highlights the beautiful dishes that travelers can enjoy at B&Bs in North America," said Lisa Westlake Chen, general manager of BedandBreakfast.com. "We love seeing the innovative and delicious recipes that innkeepers and B&B chefs create year after year."
The 16 breakfast finalists were chosen based on recipe creativity, uniqueness and appeal by guest judges including Anne Banas, deputy travel editor for BBC.com; Genevieve Shaw Brown, travel editor for ABC News; Adrien Glover, vice president of content and marketing at ItaliaRail; and Sarah Martens, associate digital food editor, BHG.com.
Click here for photos and recipes for the top 16 BedandBreakfast.com Breakfast Tournament contenders.
###
About BedandBreakfast.com
BedandBreakfast.com, based in Austin, Texas, is the most comprehensive global site for finding bed and breakfast properties, with more than 10,000 properties worldwide, representing nearly 75,000 rooms. BedandBreakfast.com helps travelers find and book the ideal B&B or small inn through informative descriptions, photos, and more than 300,000 consumer reviews. BedandBreakfast.com offers convenient gift cards welcomed at more than 4,000 B&Bs in the United States and Canada, with no restrictions or blackout dates. It is owned by HomeAway, Inc., the world leader in vacation rentals.