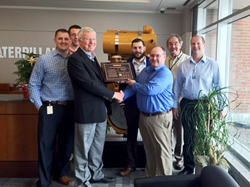 Sioux Center, Iowa (PRWEB) April 11, 2016
Groschopp, Inc. was recently awarded a platinum level premium supplier certification from Caterpillar for outstanding quality and excellence for the second year in a row. The platinum certification level is the top tier in Caterpillar's Supplier Quality Excellence Process (SQEP). Caterpillar presents this certification as a way to recognize top suppliers who demonstrate a commitment to excellence through a variety of standards, such as product quality and shipping performance.
# # #
Groschopp, Inc. is an American (ISO 9001:2008) motor manufacturer for OEMs and distributors. Groschopp builds fractional horsepower electric motors, including: AC Induction, Permanent Magnet DC, Brushless DC and Universal. These motors can be combined with Groschopp's Right Angle Worm, Planetary, Right Angle Planetary and Parallel Shaft gearboxes. Groschopp offers 8,000 standard motor designs and 150,000 possible motor or gearmotor combinations. For more information about Groschopp or their capabilities, contact the sales team at 800-829-4135 or by email at sales(at)groschopp(dot)com.