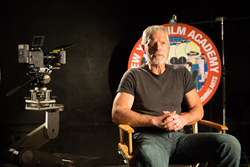 Miami, Florida (PRWEB) April 07, 2016
The New York Film Academy's new South Beach Campus and Miami Dade College will host an exclusive screening of the performance documentary film "Beyond Glory," starring featured writer and actor Stephen Lang. The film presents the poignant stories of eight veterans from World War II, Korea, and Vietnam, rendering firsthand accounts of valor that resulted in each of the protagonists receiving the nation's highest military award, the Medal of Honor. The screening will be followed by a Q&A with Mr. Lang who is widely known for his acclaimed performance in James Cameron's Avatar (2009) and Gods and Generals (2003).
This exclusive event is offered through the generous support of the New York Film Academy Foundation in partnership with the City of Miami Mayor's Office, Miami Dade College (MDC), and 8180 Films. The event is free for Florida service members, veterans, and their families and will be held at the Manuel Artime Theater on Saturday, April 23, at 6:00 p.m.
Mr. Lang's lead role in Avatar, as the film's villain Col. Miles Quaritch, has made him a pop culture icon, but Lang has many dozen major film, television, and stage performances to his credit. He was nominated for a Tony Award for his lead role in The Speed of Darkness. His film role in Last Exit to Brooklyn (1989) garnered him widespread critical acclaim. On stage, he was the first to play the role of Colonel Nathan Jessup in A Few Good Men, a role made famous on film (1992) by Jack Nicholson. He is the winner of more than half a dozen theatre awards including the Drama Desk and Helen Hayes awards.
The April 23rd event will also feature as special guests the honorable Mayor of Miami, Tomas Pedro Regalado, and Colonel Jack Jacobs, Medal of Honor recipient and Chair of NYFAs Veterans Advancement Program. Colonel Jacobs is a military strategist and on-air analyst for NBC and MSNBC News.
Colonel Jacobs is one of America's most decorated war heroes having served in the U.S. Military for more than 20 years. His gallantry in Vietnam earned him the Medal of Honor—the nation's highest combat honor—two Silver Stars, three Bronze Stars, and two Purple Hearts. "The New York Film Academy is grateful for the U.S. servicemen and women who serve to protect their country and safeguard the freedom of its citizens, and we wanted to show appreciation for Florida's veteran community by hosting this exciting event in collaboration with Mayor Regalado and MDC," said Colonel Jacobs.
Tickets for this event are free, but it is highly suggested that you register for priority-reserved seating here: http://www.brownpapertickets.com/event/2524710.
Doors will open at 5:30pm for priority seating, and 6:00pm for general admission.
*************************************************************************************
About New York Film Academy College of Visual & Performing Arts (NYFA):
Founded in 1992, the New York Film Academy is a nationally accredited and military-friendly School devoted to providing the most hands-on and intensive filmmaking, acting, producing, screenwriting, 3D animation, photography, game design, cinematography, musical theatre, dance, broadcast journalism, and digital editing instruction in the world. Many of the College's degree programs (AFA, BFA, and MFA), as well as NYFA's conservatory programs (one- & two-year) and short-term workshops are approved for Post-9/11 GI Bill benefits. NYFA has campuses in New York City, Los Angeles, California, and South Beach, FL.
NYFA has been privileged to enroll more than 1,000 veterans as students at our campuses in New York City, Los Angeles, California and South Beach, FL. The Los Angeles and South Beach campuses participate in the Yellow Ribbon Program, which allows veteran, in many cases, the opportunity to go to school tuition and fee-free.
Miami Dade College (MDC) is the nation's largest institution of higher education with an enrollment of more than 175,000 students. It is also the nation's top producer of Associate in Arts and Science degrees and awards more degrees to minorities than any other college or university in the country. The college's eight campuses and outreach centers offer more than 300 distinct degree pathways including several baccalaureate degrees in education, public safety, supervision and management, nursing, physician assistant studies, film, engineering, and others. In fact, its academic and workforce training programs are national models of excellence. MDC is also renowned for its rich cultural programming. It is home of the Miami Book Fair International, Miami International Film Festival, the MDC Live! Performing Arts Series, the National Historic Landmark Miami Freedom Tower, a sculpture park and a large art gallery and theater system. MDC has admitted more than 2,000,000 students and counting since it opened its doors in 1960.
For further information contact Jim Miller: jmiller(at)nyfa.edu 212-966-3488