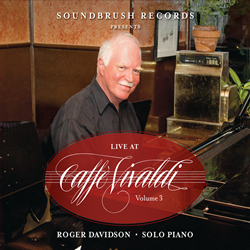 one of the most lyrical and romantic pianist around
New York, NY (PRWEB) April 08, 2016
Soundbrush Records releases "Live at Caffè Vivaldi, Vol. 3," recordings of Roger Davidson's Brazilian jazz piano solo performances.
The "Live at Caffè Vivaldi" series captures Soundbrush Records' long standing live performances at the venerable Caffè Vivaldi in New York City. The first volume highlighted Davidson's versatile and original Tango and Jazz compositions performed in duet. Volume 2 focused exclusively on Brazilian Jazz, with a dozen of his compositions and the immortal Antônio Carlos Jobim's classic, "Garota de Ipanema" (The Girl from Ipanema).
Roger Davidson continues to pay homage to his life-long love for Brazilian music in "Live at Caffè Vivaldi, Vol. 3". The CD features 16 tracks opening with "Alegria Brasileira", a vigorous samba. It also includes the romantic "Amazing You", "Amor Brasileiro", "Bossa Para Vôce" and "Bossa Para Celia" and more. With the exception of two standards, Cole Porter's "I Love You" and "Autumn Leaves" by Joseph Kosma, all compositions were written by Davidson. In Hot House Jazz's review of "Live at Caffè Vivaldi, Vol. 3", George Kanzler describes Davidson as a jazz musician with "vigorous embrace of rhythms and a penchant for creating catchy, memorable melodies."
George Harris, Jazz Weekly extols Roger Davidson as "one of the most lyrical and romantic pianist around." "Live at Caffè Vivaldi, Vol. 3" embodies Davidson's connection to Brazil's spirit through music —always full of heart. "Live at Caffè Vivaldi, Vol. 3" is available from: Amazon/CDBaby/iTunes.
About Roger Davidson
Though widely recognized for his classical work, Roger Davidson crosses over many music genres. His prolific and eclectic work as a composer and pianist underscore his passion and interest in all types of music. Davidson has released over 20 albums ranging from chamber, symphonic, and choral pieces to jazz, tango, Klezmer, children's music, and a wide span of Latin and Brazilian projects. Roger Davidson is also the founder of Soundbrush Records. For Roger Davidson, music is a world without boundaries.
About Soundbrush Records
Founded in 2003, Soundbrush Records produces and promotes cross cultural, world music from Brazil, Argentina, Cuba, and other countries throughout the Caribbean and Latin America. Over the years, Soundbrush Records has forged a unique place among contemporary record labels to showcase original work of critically acclaimed artists from all corners of the world, including Pablo Aslan, David Finck, Carol Fredette, and Marco Granados, as well as Grammy winners Frank London, Fernando Otero and Raul Jaurena. To learn more about Soundbrush Records, visit http://soundbrush.com/.