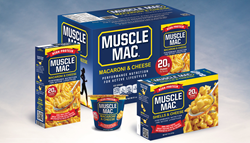 (PRWEB) April 08, 2016
Quality Pasta Company has launched the new Muscle Mac™ line of high protein Macaroni and Cheese products.
The line includes Macaroni & Cheese, Deluxe Shells & Cheese and individual Macaroni & Cheese microwaveable cups. All Muscle Mac Macaroni & Cheese items contain 20 grams of protein per serving—up to double that of any leading national brand.
"Muscle Mac is excited to bring the first true innovation to the multibillion dollar prepared meals category with our new high protein Muscle Mac Macaroni and Cheese brand," said Paul DeStefano, president of Quality Pasta Company. "We are at a crossroads of a food revolution. People no longer have to sacrifice taste or convenience for nutrition. Today, they can eat the foods they love as part of a balanced healthy lifestyle."
Long considered a staple for American families, Macaroni and Cheese is a convenient, quick and easy meal. Muscle Mac brings the familiar taste of Macaroni and Cheese along with enhanced nutritional value to consumers who are looking to add more protein to their diets. Wholesome ingredients include all-natural, GMO-free semolina wheat pasta enriched with vegetable protein plus real cheese with no synthetic dyes, colors or flavors; no partially hydrogenated oils (PHOs); and no Trans-fats.
"The time is right for Muscle Mac," said DeStefano. According to research released last year by The NPD Group, a leading global information company, 25 percent of adults said they were looking for protein on nutritional labels. The same report stated that more than half of U.S. consumers indicated they wanted more protein in their diets.
"Muscle Mac is on trend and delivers a real protein solution for today's consumers looking to eat healthier," he explained. One serving of Muscle Mac provides 42 percent (based on a 2,000-calorie diet) of the recommended daily protein intake for adults and almost the full daily recommended value for children under 10.
He added, "Muscle Mac is great for active families, finicky kids, college students, vegetarians, and even older individuals looking to increase their protein intake—really, anyone who wants a better tasting and better for you Macaroni and Cheese."
A "macronutrient," protein benefits all ages. It supports growth in children, teens and pregnant women. Athletes increase their protein intake to build muscle and speed recovery. It is a good source of energy when working out, and also can curb hunger and boost the immune system. Older adults need more protein to maintain muscular health.
In addition to all of the attributes listed above, vegetable and dairy proteins also play a vital role in healthy hair, nails, bones, cartilage, skin, and blood—while some animal proteins could increase the risk for heart disease, strokes, diabetes, and cancer. As a result, more and more consumers are seeking alternatives to animal protein. Muscle Mac uses plant and dairy proteins in its Macaroni and Cheese products.
"With Muscle Mac Macaroni & Cheese, you don't pay more for the substantial protein benefits our products deliver," said DeStefano. "Muscle Mac Macaroni & Cheese provides an exceptional value for great-tasting, high quality, protein-enriched products found anywhere in the marketplace today."
In short, Muscle Mac allows families to have the Macaroni and Cheese taste they love now with boosted nutritional value—but not at the high cost of other proteins.
Quality Pasta Company is manufacturing all Muscle Mac Macaroni & Cheese products at its newly redeveloped adaptive reuse facility in Charleroi, PA. The state-of-the-art plant is Level II SQF certified, is nut and cross-contaminant free, and has been outfitted with brand-new equipment and a passionate work force.
Founded in 2014, Quality Pasta Company is led by experienced professionals who identified a need for innovation, quality and nutrition in the pasta category. A full research and development team is dedicated to developing industry-leading formulations at competitive costs.
For more information on Muscle Mac Macaroni & Cheese, Deluxe Shells & Cheese and individual Macaroni & Cheese microwaveable cups, visit http://www.quality-pasta.com/muscle-mac.