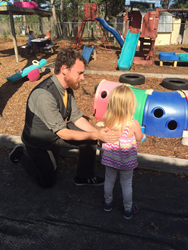 When a student gives me a hug at the end of the day, it's just the best feeling. It makes me never want to leave this job. That's how I know that I've found my career.
Spring Hill, FL (PRWEB) April 27, 2016
As a teacher at Little Rascals Daycare, Alex Dissell's days are filled with the screams, laughter, and occasional tantrums of his three-year-old students — and he wouldn't have it any other way. "I may go home tired, but I go home feeling like I've accomplished something," Alex says. "When a student gives me a hug at the end of the day, it's just the best feeling. It makes me never want to leave this job. That's how I know that I've found my career."
Alex wasn't always so sure of his career plans. He has Asperger's syndrome, a disability on the autism spectrum that makes it hard for him to interact with others and stay focused on tasks. Still, he was determined to work— so he went to Vocational Rehabilitation (VR), an agency that helps people with disabilities get or keep jobs.
Alex met with his VR Counselor, Kristina Risola, to create his path to employment. Because he loved working with children and wanted to give back to his community, Alex decided to become certified as a child care worker.
After completing his certification, Alex gained work experience at Care-a-Lot Daycare though VR's On-The-Job Training (OJT) program. The OJT program allows employers to mentor people with disabilities, helping them to get used to working in a professional environment while developing the skills they need to succeed on the job.
Alex made the most of his OJT opportunity, even waking up hours before his shift began to walk to the daycare when he faced transportation issues. The dedication paid off. At the end of his training, he found a full time job as a teaching assistant at Little Rascals Daycare, and he was promoted to a lead teacher just six months later.
Kristina is proud to see Alex's progress. "When I first met Alex, he had a hard time speaking and making eye contact with me," Kristina recalls. "During his time at VR, he made a specific effort to improve his social skills, which wasn't easy for him because of his disability. Since then, he has really grown into himself and become so confident and charismatic — he even has a certain swagger. Alex is just awesome; there is no one quite like him."
In the future, Alex dreams of working his way up to a director position or even of opening his own daycare; but for now, he is grateful that he was given the chance to prove himself on the job. "People with disabilities can work; you just have to give them a chance and get to know them," he says. "If you are direct with them and challenge them, you never know what they can do."
About Vocational Rehabilitation
Florida's Vocational Rehabilitation (VR) is a federal-state program committed to helping people with disabilities become part of America's workforce. The employer-focused website, https://abilitieswork.employflorida.com/, allows businesses to search at no charge for employees who are ready to go to work, as well as to post available jobs. VR has 90 offices across Florida, and last year helped 5,760 Floridians with significant disabilities find or keep a job. For more information about VR and its services, call (800) 451-4327 or visit http://www.Rehabworks.org.