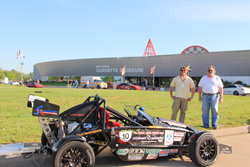 These types of stops speak to the core of what the One Lap is, an event for the people and families.
(PRWEB) April 22, 2016
The Tire Rack One Lap of America is pleased to announce a few enhancements to the 2016 schedule. For a second consecutive year, in conjunction with Visit South Bend/Mishawaka, the One Lap will host a community welcome event at the Waterford Estates Lodges in South Bend, Indiana on Friday, April 29, 2016 beginning at 5pm. This family friendly and free public event is open to all. Visitors will have the opportunity to see world class vehicles up close while interacting with the personalities of the One Lap. Food, drink and lots more will be available through on-site vendors. Follow along on the One Lap Facebook Page for more information.
The following day the event will make a mandatory stop at Lake Erie Harley Davidson to benefit the official charity of the One Lap, The Brock Yates Tribute Fund through the Cleveland Chapter of the Alzheimers Association. This family friendly event is also free and open to the public. On Saturday, April 30th, 2016 visitors should expect to start seeing the One Lap cars coming through around 7:30pm and continue through 10pm. Food and drink will be available through onsite vendors. Donations to the Brock Yates Tribute Fund are encouraged.
"It would be impossible to add meaningful stops like this without the help of some very dedicated locals. The One Lap gives a heartfelt 'Thank you' to all who have helped to make these enhancements a reality. These types of stops speak to the core of what the One Lap is, an event for the people and families. We don't care what you drive, just that you get out and drive the roads of this beautiful country to create your own meaningfulness and memories while having fun." said Brock Yates Jr. Organizer of the Tire Rack One lap of America.
One such local committed to the One Lap's mission is John Golias of the Cleveland Automotive Hall of Fame. "I myself, along with the Cleveland Automotive Hall of Fame, would like to welcome all cars, drivers, sponsors, enthusiasts, and guests to the Cleveland stop of the 2016 Tire Rack One Lap of America." John, in conjunction with Mike Stevens, Owner of Lake Erie Harley Davidson have worked to ensure we the event would have an exciting atmosphere to stop. "Lake Erie Harley-Davidson is honored to host the Drivers, sponsors, and guests of the Tire Rack One Lap of America as they pass through Ohio!" said Mike Stevens.
On May 7th, as the One Lap wraps up it's 33rd running, Timothy Frost of the National Speedway Directory (NSD) and Track Guide will announce the Outstanding Facilities Award during the awards banquet. Throughout the week of the One Lap Tim and his team at NSD and Track Guide survey, collect then analyze data to come up with the vital stats for each years One Lap. The most coveted award in this effort is the Outstanding Facilities Award. Awarded to the facility with the most unique characteristics that appeal to the participants of the One lap this award is proudly displayed by each winning track.
This year the candidates for the award are.

Pittsburgh International Race Complex
Palmer Motorsports Park
Summit Point Raceway
National Corvette Museum Motorsports Park (2015 winner)
Road America
Great Lakes Dragaway (sic)
Autobahn Country Club
"The Tire Rack One Lap of America thanks and appreciates the efforts of all our fans and friends who continue to ensure the event that started it all will be around for another 33 years.
See you on the road."
~ Brock
****************
ABOUT THE ONE LAP OF AMERICA
The Tire Rack One Lap of America Presented by Grassroots Motorsports Magazine is the modern day version of the Cannonball Sea to Shining Sea Memorial Trophy Dash of 1970. Created by Brock Yates and popularized by the movie Cannonball Run, today's One Lap of America challenges its participants to endure long transit drives of over 400 miles daily and to compete on 12 of Americas most challenging racetracks in 8 days. This year's One Lap begins on April 30th, 2016 and runs through May 7th, 2016. The current event is headed by Brock Yates, Jr. and will be celebrating the 33rd running of the event. The full schedule is available online at http://www.onelapofamerica.com and on Facebook.
Media Contact:
Solomon A. Rosenthal
Media Director
215.703.7621
ABOUT NATIONAL SPEEDWAY DIRECTORY and TRACK GUIDE
National Speedway Directory (http://www.speedwaysonline.com) is an information source for the motorsports industry. It prints listing of oval tracks, drag strips, road courses, sanctions, publications, museums and race schedules. National Speedway Directory has been published annually since 1975.
Track Guide is the iphone and android app, which puts race track information and directions right in the palm of your hand. Now users can locate their favorite tracks, anywhere, anytime.
ABOUT TIRE RACK
Tire Rack, family-owned and headquartered in South Bend, Indiana, is America's largest independent tire tester and consumer-direct source for tires, wheels and performance accessories. Their team of over 100 test drivers (their sales team) tests tires from every major tire manufacturer on the company's state-of-the-art, 11.7-acre test facility. The findings are then posted on the company's website, http://www.tirerack.com, where consumers can make an educated decision on a tire, wheel or performance accessory purchase.
Tire Rack has also collected results from nearly 150,000 consumer surveys representing over 2.5 billion miles of real-world tire data, the largest known cache of such information anywhere. In addition, various testing and informational videos are available online in their Video Center at http://www.tirerack.com/videos. Since 1979, Tire Rack has grown from a single-point retail store in Indianapolis to encompass over 2.2 million square feet of space in seven distribution centers across the country. A diverse and broad in-stock inventory from 21 major tire and 62 wheel brands can be delivered anywhere in the country, most in one business day. A national network of over 8,000 independent Recommended Installers is available to assist customers with installation of their purchases.
ABOUT THE BROCK YATES TRIBUTE FUND
The official charity of the Tire Rack One Lap of America. The Brock Yates Tribute Fund, was created in 2013 through the Alzheimer's Association, a 501(c)3 non-profit, to raise money and awareness about Alzheimer's. Currently suffering from this disease, legendary automotive and racing veteran journalist Brock Sr. continues to dedicate his life to all the car enthusiasts around the country. Tribute Fund aims to honor him for all that he has given to the world of the automobile.
All funds raised by the Fund go directly toward supporting the Alzheimer's Association mission. The Tribute fund, will once again be competing in the Tire Rack One Lap of America with the Tribute Fund's heavily customized Ariel Atom piloted by Jack Beachem and Victor Leo.