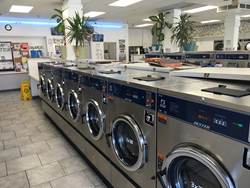 Two years later, I'm still learning something new everyday and am so happy that I didn't try to run my laundry as a 'hands-off investment.
San Diego, California (PRWEB) April 08, 2016
Local San Diego businessman Brian Clune worked with Western State Design representative Steve Erlinger on an equipment upgrade for Sudz Coin Wash of Linda Vista. The laundromat recently put the finishing touches on the facility's improvements, which center around new Dexter Laundry machines. http://www.westernstatedesign.com
With the remodel, the number of machines in the facility was lowered, while capacity increased from 1388 pounds to 1558 pounds of laundry. The remodel and changeover to the new configuration of Dexter machines has led to a 30-percent increase in revenue and a 20-percent reduction in the facility's water bills. The store has also seen an increase in clients since the remodel and the initiation of other operational changes.
Clune purchased the laundromat two years ago with the goal of renovating the facility and then letting the business run primarily as a form of passive income. Instead, he found he enjoyed being involved in the day-to-day running of the business more than he'd imagined. "I guess you could say I purchased it for all the wrong reasons, while still stumbling into something that I love," Clune said.
When he purchased the store, Clune was lucky to inherit a first-rate team of employees, but he knew the facility needed equipment upgrades and a complete renovation. Of the machines that came with the store, Clune noticed the four pre-existing Dexter Laundry machines looked brand new despite being between 8 and 11 years old. "Dexter's equipment just seemed bulletproof," Clune said.
Clune sought out Western State Design, which has been recognized as the top Dexter distributor since 2009, and began working closely with Erlinger to make his vision for his Laundromat a reality. "Steve was great through the entire process of getting me up and running when I first took over the store," Clune said. "He gave me tons of great advice and was always available anytime I called."
Clune and Erlinger worked together to optimize the mix of new Dexter Laundry machines in order to maximize laundry volume and efficiency, while at the same time increasing much-needed folding space. Ultimately, the store upgraded with 51 new Dexter laundry machines, including 29 washers and 22 dryers: seven T-400 C Series Washers, fourteen T-600 C Series Washers, seven T-900 A Series Washers, one T-1200 A Series Washer, fourteen stack 30 A Series Dryers, and eight stack 50 A Series Dryers. The store has an additional eight Speed Queen top loaders and eight Wascomat W 74s which Clune will be replacing with Dexter T-300s later this year.
Dexter Laundry, a highly regarded employee owned manufacturer of coin-op laundry machines based in Fairfield, Iowa, has proudly manufactured their equipment in the United States for over 100 years. Dexter is committed to delivering quality equipment that performs quickly, efficiently, and reliably.
In addition to the new Dexter Laundry machines that replaced 95% of the store's equipment, Clune renovated the appearance of the laundromat, beginning with a fresh coat of paint and new LED ceiling lights. Clune did much of the hands-on work transforming the appearance of the store himself, which he says turned out to be a great decision. "It not only allowed me to save a ton of money, it also gave me a perfect opportunity to really get to know my customers and create some great relationships," Clune said.
The laundromat also boasts free Wi-Fi, free phone charging stations, two arcade games featuring classic video games and plenty of outlets for charging laptops.
Clune is looking forward to remaining hands-on with the business he developed an unexpected love for. Clune said, "Two years later, I'm still learning something new everyday and am so happy that I didn't try to run my laundry as a 'hands-off' investment."
--
About Sudz Coin Wash of Linda Vista
Sudz Coin Wash of Linda Vista is a coin-operated laundromat located at 6941 Linda Vista Road, San Diego, California. http://www.sudzcoinwash.com It is conveniently located one and half miles from the University of San Diego and is close to many restaurants and retail stores. The store remained open during the bulk of the renovations which included new Dexter Laundry coin-op washers and dryers. Owner and proprietor Brian Clune also owns the San Diego Term Life Insurance Company TermLife2Go.
About Western State Design
With over 40 years' experience as a premier, full-service distributor to the coin-op laundry industry, Western State Design has grown to become one of the largest coin laundry equipment distributors in the world. Western State Design is proud to be a Dexter Authorized Distributor, and has been recognized as the No. 1 Dexter Distributor Worldwide from 2009 to 2015. Dexter Laundry located in Fairfield, Iowa, is an employee owned leading manufacturer of commercial laundry equipment. All equipment is manufactured in Iowa. Visit WSD online at http://www.westernstatedesign.com or call toll free at 1-800-633-7153.