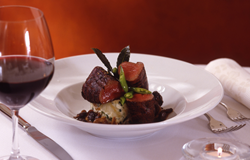 "I am excited about this opportunity to lead Geronimo's renowned kitchen," said Cruz. "The flavors of Chef DiStefano have had a wonderful impact on my culinary career and I look forward to bringing a fresh perspective to the restaurant's cuisine."
Santa Fe, New Mexico (PRWEB) April 13, 2016
Award-winning, fine dining restaurant Geronimo is delighted to announce the appointment of Chef Sllin Cruz as its executive chef. After almost two years running the Geronimo kitchen as chef de cuisine and being awarded Open Table's Top 100 Restaurants in America through his culinary talent, Cruz will take over from acclaimed Chef Eric DiStefano, who sadly passed away in February 2016. Geronimo restaurant, located on historic Canyon Road, presents an exquisite 'Global Eclectic with a French base'-inspired menu focusing on comfort delicacies from all over the world.
Chef Cruz has an impressive pedigree working with the top chef's and restaurants in Santa Fe including; The Compound, opening Bouche Bistro, and Las Campanas. "Chef DiStefano found Sllin", said Chris Harvey, Geronimo partner and general manager. "He knew immediately who he wanted when the previous chef de cuisine left a couple of years ago".
Geronimo, named after the historic "Borrego House" built by Geronimo Lopez in 1756, "will continue to pay homage to Chef DiStefano's signature dishes, while evolving the menu with fresh chef-tastings, specials and exciting new menu creations from Chef Cruz," said Harvey. The focus on hospitality coupled with world-class cuisine creates the "ultimate fine dining experience" and is the motivation behind Geronimo's reputation. "I believe that while food trends are important and the culinary revolution is real," adds Harvey, "ultimately, the key to success is the ability to deliver on hospitality."
"I am excited about this opportunity to lead Geronimo's renowned kitchen," said Cruz. "The flavors of Chef DiStefano have had a wonderful impact on my culinary career and I look forward to bringing a fresh perspective to the restaurant's cuisine."
Under Cruz's direction, Geronimo's menu remains as enticing as when DiStefano first arrived, and several of its early menu staples are recurrent favorites: from the Telicherry Rubbed Elk Tenderloin with Applewood smoked bacon and creamy brandied-mushroom sauce to the mesquite-grilled Maine lobster tails with a rich garlic chile sauce.
Geronimo's dining room seats 100 guests inside (including the bar) with an additional 24 seats on the patio, which will open April 29th. Expect an exciting wine list and refreshing, delicious cocktails curated and designed by mixologist Quinn Stephenson.
"Geronimo is the best restaurant in New Mexico," says Chef Cruz "and it allows me to take the next step in my culinary career."
###
ABOUT GERONIMO:
Opened in 1990, recognized for their dedication to maintaining the highest standards for culinary and hospitality excellence, Geronimo Restaurant features an elegant and intimate environment on the culturally enriched Canyon Road in Santa Fe, New Mexico.  Established in the warm and inviting historic "Borrego House" built by Geronimo Lopez in 1756, Geronimo is the recipient of the AAA Four Diamond and Mobil/Forbes 4 Star Awards and was voted "Top 100 Opentable Restaurants" in the country in 2013 and 2015. Executive Chef Sllin Cruz creates the "Global Eclectic" menu that changes seasonally, while continuing to pay homage to Chef Eric DiStefano's signature dishes.