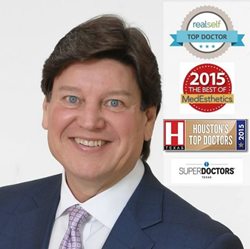 Houston, TX (PRWEB) April 07, 2016
Paul Vitenas, M.D. is honored to be one of the country's most esteemed cosmetic surgeons. Recognized by a wide range of customer advocate groups, researchers, and websites, Dr. Vitenas has received countless awards during his prolific, 25-year career.
Three months in to 2016, Dr. Vitenas has already taken home more titles than many physicians do in their career. So far this year, Dr. Vitenas has been named as a Top Board Certified Doctor by Modern Luxury Magazine and made Castle Connolly's America's Top Doctors List. He earned a place as one of the RealSelf 100 Top Cosmetic Surgeons, and won the City Beat News' Spectrum Award for Excellence. His practice, Vitenas Cosmetic Surgery, has also been named Top Cosmetic Clinic of 2016 by the Top Choice Awards.
These awards come on the heels of last year's many recognitions. In 2015, Dr. Vitenas was honored by MedEsthetics' recognition as the country's Top Single Physician Practice, he was named a Top Ten Plastic Surgery in Middle America by Aesthetic Everything, and given the Angie's List Super Service Award. As cosmetic surgery is his life's passion, Dr. Vitenas is humbled to have received so many accolades for doing what he loves.
Dr. Vitenas specializes in aesthetic and cosmetic plastic surgery. Natural looking results are the focus of his work. An alumnus of Tulane Medical School in New Orleans, Dr. Vitenas completed a Craniofacial and Cosmetic Surgery Fellowship at the Hospital Necker and Clinic Belvedere in Paris, France, as well as an Orthoganathic Surgery Fellowship in the Department of Oral and Maxillofacial Surgery at Louisiana State Medical Center.
Dr. Vitenas does not believe in a one-size-fits-all aesthetic procedure. Each patient deserves a thorough consultation and a custom-tailored treatment plan. This ensures the most satisfying results. Dr. Vitenas goes on to explain, "There is never a substitute for achieving your personal best; we incorporate this theory into everything we do."
Dr. Vitenas is Board Certified by the American Board of Plastic Surgery. He has proudly served the Houston area for more close to three decades. A prolific writer, educator, and speaker, Dr. Vitenas presents at cosmetic events across the country and internationally.
For more information on surgical or noninvasive aesthetic procedures, contact Vitenas Cosmetic Surgery at 281.484.0088. Located in the heart of Houston, the office is an easy drive from surrounding areas like Katy, Friendswood, and the Woodlands. New patients coming from out of town have the option to request a virtual consultation with Dr. Vitenas.
Contact:
Dr. Paul Vitenas
4208 Richmond Avenue, Suite 200
Houston, Texas 77027
http://www.drvitenas.com