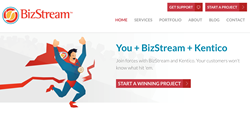 We got tired of missing something trivial or overwriting code from another development team and decided there had to be a better way. That is really why we built Compare for Kentico.
Grand Rapids, Michigan (PRWEB) April 08, 2016
BizStream, a software company specializing in web design, development, and custom software, announced today a new development tool available to Kentico developers. Working to solve an ongoing issue, BizStream built COMPARE for Kentico to ease website deployments. The tool visually shows developers if website page content, code, media, and more, are in sync across Kentico installations. COMPARE for Kentico is now available to the entire Kentico user base and developer community.
"Today's websites and web applications are complex entities that have many moving parts, and without some level of automation, it is too easy to miss a line of code here, or database object there, when it comes to deploying to production," said Brian McKeiver, Co-Owner at BizStream. "We got tired of missing something trivial or overwriting code from another development team and decided there had to be a better way. That is really why we built Compare for Kentico."
COMPARE for Kentico was borne out of the challenge of deploying changes in Kentico multi-environment projects. When components are determined to be out of sync, developers can quickly determine if these differences are intentional or not.
COMPARE for Kentico is the first tool available in the BizStream Toolkit - a planned suite of tools for Kentico developers to assist with building, maintaining, and enhancing Kentico projects. COMPARE for Kentico features a 30-day free trial, with pricing starting at $299 USD per month. Learn more at http://www.bizstreamtoolkit.com/
As part of a revamp to the Kentico Technology Partner program, Kentico and BizStream have partnered up together to deliver enhanced Kentico functionality that increases value to existing clients through tools and add-ons like COMPARE for Kentico.
Learn more about the Kentico Technology Partner program at http://www.kentico.com/partners/technology-partners
About BizStream:
BizStream builds web, online marketing, and software solutions that are delivered with a sense of smart, geeky fun. The company specializes in ASP.NET, SQL Server, Kentico CMS and Kentico EMS development. Alongside custom development services, BizStream has 3 Software as a Service (SaaS) products including YouthCenter, CaseStream, and the BizStream Toolkit for Kentico.
Our Kentico experience: 1 Kentico MVP; Top Kentico Gold Partner; Kentico Quality Expert, 14 Kentico Certified Developers; 100+ Websites Developed in Kentico; Kentico Development & Integration Competency; Kentico E-Commerce Competency. Founded in 2001, the BizStream team comprises more than 25 developers, designers, digital specialists, support staff, and enthusiasts. BizStream is located just outside Grand Rapids, Michigan. http://www.bizstream.com
About Kentico:
Kentico is an all-in-one CMS, E-commerce, and Online Marketing platform that drives business results for companies of all sizes both on-premise or in the cloud. It gives customers and partners powerful, comprehensive tools and customer-centric solutions to create stunning websites and manage customer experiences easily in a dynamic business environment. The Kentico Web Content Management Solution's rich selection of out-of-the-box web parts, easy customizations, and open API, quickly gets websites operational. When combined with the full set of integrated solutions, including Online Marketing, E-commerce, Online Communities, and Intranet and Collaboration, Kentico fully optimizes the digital customer experience across multiple channels.
Founded in 2004, Kentico is a Microsoft Gold Certified Partner headquartered in the Czech Republic with offices in the US, UK, Netherlands, and Australia. Kentico has 1,000 digital agency partners and powers more than 25,000 websites across 100 countries. Customers include Gibson, Twinings, Ingram Micro, Mazda, Kingspan, Hunter Fan, Starbucks, and Allergan.