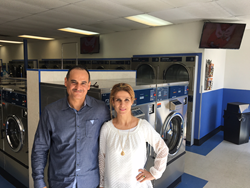 I have had great experience with the Dexter coin-op laundry equipment: it is very attractive, durable and dependable. It is also extremely efficient, allowing customers to complete their wash quickly in order to get back to their busy lives.
Corona, California (PRWEB) April 13, 2016
Western State Design's Steve Erlinger previously assisted Abed and his wife, Zana, upgrade another laundromat in Moreno Valley, California in 2014. Their original A-1 coin-op laundry, featuring state-of-the-art Dexter laundry equipment, continues to provide the Abeds with a solid second source of income, significantly increasing business in less than two years.
Through a continued partnership with WSD, Abed hopes to duplicate the Moreno Valley success with the Corona A-1 Coin Laundry. As the top distributor of Dexter laundry equipment since 2009, WSD offers a wealth of experience and expertise in top-of-the line vended laundry equipment. Dexter Laundry equipment, made in the U.S.A., consists of a superior line of coin-operated washers and dryers that are energy efficient with minimal servicing needs.
The 2200 square foot Corona coin-op laundry is located in a busy, recently-upgraded shopping center, anchored by a brand-new Walmart. "The high traffic location is what first caught my eye", explained Abed.
The coin-op laundry at that location was very run-down and needed an overhaul. Not only did the laundry equipment need to be replaced with modern, high efficiency machines, the space itself needed a complete facelift.
The first thing Abed did was to negotiate a long-term lease with the landlord. With the lease secure and a long-term business plan, Abed opened A-1 Coin Laundry's doors on December 1, 2015. Abed ran the business for most of December using the existing equipment while he carefully formulated his plan for renovation.
Abed decided to brand the A-1 Coin Laundry in a similar manner to his store in Moreno Valley, using the same high quality materials, colors and coin-op laundry equipment. The project, completed January 15, 2016, involved a complete renovation, from floor to ceiling and the purchase of a brand new line of Dexter laundry equipment. "He worked very quickly", marveled Steve Erlinger of WSD.
With Erlinger's continuing guidance, Abed purchased the state-of-the-art Dexter C series line in traditional Dexter Blue. The equipment installed consisted of 34 energy-efficient washing machines, including 7-20 lb. T-300 washers, 11-30 lb. T-400 washers, 8-40 lb. T-600 washers, 6 60 lb. T-900 washers, and 2 80 lb. T-1200 washers, as well as 23 stacked dryers, including 17 T-30x2 dryers and 6 T-50x2 dryers. Abed explained, "I have had great experience with the Dexter Coin-Op laundry equipment: it is very attractive, durable and dependable. It is also extremely efficient, allowing customers to complete their wash quickly in order to get back to their busy lives". Other equipment includes two 400RL Rowe Changers with bill recyclers.
About A-1 Coin Laundry
Opened officially on "Leap Day" (February 29, 2016), at 1520 W. 6th Street, Suite 105 in Corona, California, A-1 is a coin-operated laundromat that has been attracting a growing base of enthusiastic customers. Customers appreciate the convenient location, the inviting, brand-new interior, and the high quality Dexter laundry equipment. The laundromat also offers T.V. with both English and Spanish-speaking channels, as well as free WIFI. It is open from 6am-10pm, 7 days a week.
About Western State Design
With 37 years' experience as a premier, full-service distributor to the coin-op laundry industry, Western State Design has grown to become one of the largest coin laundry equipment distributors in the world. Western State Design is proud to be a Dexter Authorized Distributor, and has been recognized as the No. 1 Dexter Distributor Worldwide from 2009-present. Dexter Laundry, located in Fairfield, Iowa, is an employee-owned leading manufacturer of commercial laundry equipment. All equipment is manufactured in Iowa. Visit WSD online at http://www.westernstatedesign.com or call toll free at 1-800-633-7153.