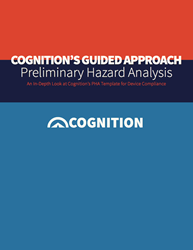 We are excited for the release of the first of many templates relating to medical device design.
Lexington, Massachusetts (PRWEB) April 08, 2016
Cognition Corporation (http://www.cognition.us), a software company specializing in medical device compliance and commercialization, located in Lexington, Massachusetts, announced today the release of the first of many program templates in a new series targeted at assisting small to medium medical device manufacturers to comply with FDA and ISO regulations. Cognition will first release the PHA Exercise template, influenced by BS EN ISO 14971:2012 and IEC 62366:2008, to assist companies in completing the PHA (Preliminary Hazard Analysis) Exercise process.
The template uses Cognition's legacy product, Cockpit, as the underlying engine to perform the PHA exercise with ease. It guides program teams through the process of completing the PHA Exercise defined in two widely used standards for medical device compliance: ISO 14971 and IEX 62366. The final product is a completed PHA table that can be included in regulatory submissions and stored in the established quality management system.
"We are excited for the release of the first of many templates relating to medical device design," said David Cronin, CEO of Cognition Corporation. "These templates are meant for small to medium sized businesses who wish to easily maintain compliance while confidently decreasing the time it takes to complete a submission."
In addition to the template, Cognition has released a white paper detailing them and the benefits of implementing them. Download the complimentary paper here to see how these new templates can help you. The next template pack Cognition will release is for Design Controls (21 CFR 820.30) and will guide medical device companies through best practices recommended by FDA for compliance within the United States.
"The latest paper really captures the reason why we decided to create these templates. Creating a product can be complicated and stressful. Maintaining compliance while designing the product just adds to that," said Mr. Cronin. "Our goal is to help companies lessen some of the stress and complication by guiding them through the process in an easy to follow, user friendly manner."
About Cognition Corporation
Cognition Corporation, headquartered in Lexington, Massachusetts, has been offering solutions for medical device compliance and commercialization for more than ten years. Cognition's Cockpit Platform provides the framework for the extensive set of compliance templates they offer. These templates along with professional services give companies a jump-start to reduce time to market.
###