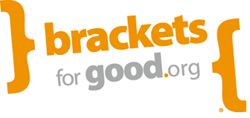 Thirty percent of total donations were from first time donations
INDIANAPOLIS (PRWEB) April 09, 2016
Nonprofits in five Midwest cities share a windfall of donations from the 2016 Brackets For Good tournament, which brought in $1,364,669 from 11,792 donations between February 26 and April 1, in addition to $50,000 in presenting sponsor grants.
Indianapolis-based Brackets For Good, which pairs with corporate and nonprofit sponsors to host online, bracket-style fundraising tournaments in philanthropic communities around the United States each March, has now raised more than $2.75 million for local charities since its 2012 kick-off contest in Indianapolis.
Within the tournament, participating nonprofit organizations compete to out-fundraise their opponents, earn increased exposure, and have a chance to win $10,000 from generous corporate sponsors. Dollars from donors translate to points, giving participants the opportunity to advance in each market bracket. Competing nonprofits keep 100 percent of donations received during tournament play, no matter how many rounds they last.
"Thirty percent of total donations were from first time donations," said Matt McIntyre, executive director for Brackets For Good. "That's our primary goal in instituting these tournaments – making community members aware of the nonprofits in their own back yard and engaging them in a unique way to become new supporters."
2016 market winners
Brackets For Good is pleased to announce the 2016 tournament champions in each market. The following totals are money raised on top of the $10,000 prize:

Ann Arbor, Mich. – Ecology Center, with $47,358 total raised
Indianapolis – Joseph Maley Foundation, with $75,535 total raised
Louisville, Ky. – Families for Effective Autism Treatment (FEAT) of Louisville, with $26,093 total raised
Minneapolis – Spare Key, with $75,225 total raised
St. Louis – Athletes For Animals, with $29,683 total raised
Representatives from all market champions will join Brackets For Good at the April 10 Indiana Pacers game to be recognized for their accomplishment. Indianapolis tournament title sponsor Valeo Financial will present the $10,000 check to Joseph Maley Foundation at halftime, and all champions will cut down the nets at the end of the game.
2016 market totals
When the final donation clock ran out, the grand totals in each market were:

Ann Arbor, Mich. – $218,687
Indianapolis – $436,514
Louisville, Ky. – $257,759
Minneapolis – $271,184
St. Louis – $180,272
"We can't thank our sponsors enough for their enthusiastic support of the local nonprofits in their areas and of the Brackets For Good fundraising platform," McIntyre said. "They believed their communities wanted to help, and they were clearly right."
2016 market sponsors
The 2016 Brackets For Good sponsors in each market include:

St. Louis – Title sponsor YouthBridge Community Foundation and division sponsors Simploy and Ferguson Roofing
Ann Arbor, Mich. – Title sponsor Valeo Financial Advisors and division sponsors Zingerman's Community of Businesses and philanthropic community, Ann Arbor Area Community Foundation, United Way of Washtenaw County, and James A. & Faith Knight Foundation
Minneapolis – Title sponsor Northern Tier Family of Businesses, including SuperAmerica and Super Mom's, and division sponsor The Minnesota Community Foundation
Louisville, Ky. – Tile sponsor Bingham Greenebaum Doll and divisional sponsors Valeo Financial Advisors, Harding, Shymanski & Company and America's Window
Indianapolis – Title sponsor Valeo Financial Advisors and division sponsors First Person, Bingham Greenebaum Doll, and Citimark
2017 tournament expansion
Brackets For Good and 2017 title sponsor Bingham Greenebaum Doll Cincinnati are thrilled to bring fundraising madness to Ohio.
"Cincinnati is a community we've been hoping to expand into for a long time," McIntyre said. "The close proximity to Indianapolis is exciting! Moreover, it's a great sports town with a fantastic community of nonprofits, many of which have already asked us to expand. Here we come!"
Online registration is now open at cincinnati.bfg.org.
About Brackets For Good
Brackets For Good is an Indianapolis, IN based 501(c)3 charitable organization focused on activating new donors, and increasing awareness for other nonprofit organizations through competitive, online fundraising at no cost. For more information visit bfg.org.
# # #
Media contact:
Jaymie Shook
317.602.7137
jshook(at)bohlsengroup(dot)com