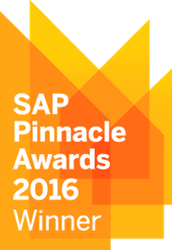 "It is a great honor to win an SAP Pinnacle Award," said Brad Peterson, Co-Founder and CEO of Macromicro. "This award highlights the innovation possible with the HANA Cloud Platform and reflects our commitment to the technology."
Boston, MA (PRWEB) April 11, 2016
Macromicro today announced that it has received a 2016 SAP® Pinnacle Award as the Application Development Partner of the Year, which recognizes its outstanding contributions as an SAP partner. SAP presents these awards annually to the top partners that have excelled in developing and growing their partnership with SAP and helping customers run better. Winners and finalists in 19 categories were chosen based on recommendations from the SAP field, customer feedback and performance indicators in the following umbrella categories: Build, Service, and Sell with each category including a Customers' Choice award, which recognizes a customer-nominated SAP partner.
"It is a great honor to win an SAP Pinnacle Award," said Brad Peterson, Co-Founder and CEO of Macromicro. "This award highlights the innovation possible with the HANA Cloud Platform and reflects our commitment to the technology."
"Winning the SAP Pinnacle Award is a tremendous accomplishment," said Rodolpho Cardenuto, president of SAP Global Channels & General Business. "Only 16 companies in our ecosystem of 13,000 partners received this recognition. Macromicro should be very proud of their success."
Kevin Ichhpurani, executive vice president of SAP Strategic Business Development & Global Ecosystem added, "The SAP Pinnacle Award winners represent the very best in our partner community, and we congratulate Macromicro for a well-deserved 2016 SAP Pinnacle Award."
Macromicro is an SAP Partner, and member of the SAP PartnerEdge for Application Development program. Its flagship application, OrgInsight, leverages SAP HANA to extend existing workforce applications with unique mapping and visual analytics that provide insights not possible with traditional solutions.
"Working with SAP and the HANA Cloud Platform was the perfect choice for us" said Harri Nieminen, Chief Technology Officer of Macromicro. "The platform provides an unparalleled environment for innovation, and implementation of our visual workforce mapping and analytic solution."
SAP Pinnacle Awards shine a spotlight on SAP's partners' remarkable contributions, acknowledging their dedication to teamwork, innovative approach and capacity to challenge what is possible to help customers achieve their goals. Award winners will be formally recognized at the SAP Global Partner Summit being held on May 16, in conjunction with SAPPHIRE® NOW, SAP's international customer conference being held in Orlando, Florida, May 17–19.
For descriptions of the awards, visit: http://www.sap.com/partners/become/partner-program/benefits/pinnacle-awards.html.
About Macromicro
Macromicro is recognized for making cutting-edge, interactive data visualizations and organizational analysis tools. Based on a blend of business insight and design thinking, Macromicro enables new forms of organizational discovery and multidimensional analysis not possible through traditional analytic tools or spreadsheets. Its flagship application, OrgInsight, is used by HR leaders, workforce planners, and HR data analysts to understand context and proactively manage organizational complexity.
# # #
SAP, SAPPHIRE and other SAP products and services mentioned herein as well as their respective logos are trademarks or registered trademarks of SAP SE (or an SAP affiliate company) in Germany and other countries. See http://www.sap.com/corporate-en/legal/copyright/index.epx for additional trademark information and notices.
All other product and service names mentioned are the trademarks of their respective companies.
SAP Forward-looking Statement
Any statements contained in this document that are not historical facts are forward-looking statements as defined in the U.S. Private Securities Litigation Reform Act of 1995. Words such as "anticipate," "believe," "estimate," "expect," "forecast," "intend," "may," "plan," "project," "predict," "should" and "will" and similar expressions as they relate to SAP are intended to identify such forward-looking statements. SAP undertakes no obligation to publicly update or revise any forward-looking statements. All forward-looking statements are subject to various risks and uncertainties that could cause actual results to differ materially from expectations. The factors that could affect SAP's future financial results are discussed more fully in SAP's filings with the U.S. Securities and Exchange Commission ("SEC"), including SAP's most recent Annual Report on Form 20-F filed with the SEC. Readers are cautioned not to place undue reliance on these forward-looking statements, which speak only as of their dates.