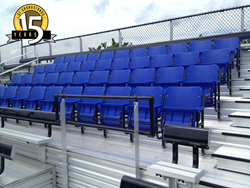 We came from humble beginnings and it's very gratifying to step back and acknowledge what we have all accomplished here at GT Grandstands
Plant City, FL (PRWEB) April 07, 2016
Since 2001, GT Grandstands, a PlayCore Company, has been a leading designer and manufacturer of grandstands and bleachers for all types of spectator seating. In April of 2016, the Plant City based company will celebrate its 15th year providing industry leading group seating accommodations for sporting complexes and crowd venues across the US.
Founders, Greg Buckner and Tom Ennis, the origin of the G and T in the name, wanted to provide high quality seating for a wide array of spectator venues. Both offering extensive experience from the aluminum manufacturing industry, Buckner and Ennis, built GT Grandstands from the ground up with only 4 employees and a passion to provide excellent customer service, beyond standard warranties, and personalized design options. The original shop location was behind an industrial painting company in Lakeland with an iron working machine housed by a soccer tent. Today, GT Grandstands is located on an 8 acre Plant City property with 20,000 square feet of office and shop space and a 9,000 square foot warehouse. "We came from humble beginnings and it's very gratifying to step back and acknowledge what we have all accomplished here at GT Grandstands. Greg and I are so proud of the 15 years," said Ennis.
Today, the GT Grandstands advantage includes top of the line quality manufacturing and a wide array of choices, plus an expansive catalog of projects. "We pride ourselves in being a full service turnkey bleacher and grandstand supplier who can furnish small bleacher units for little league fields and playgrounds, as well as, large custom grandstands for high schools, colleges, speedways, rodeos, and anything in between," added Buckner.
Prominent projects include the Spanish Fork Fiesta Days Rodeo Stadium in Spanish Fork, UT, Reese Smith, Jr. Baseball Field at Middle Tennessee State University in Murfreesboro, TN, and Freer High School's home, visitors, baseball, and softball complex in Freer, Texas among hundreds of others. GT Grandstands currently employs 42 – including all 4 original employees - in the Plant City area and is part of the PlayCore family of brands.
About GT Grandstands:
GT Grandstands designs and manufactures premium-quality grandstands, bleachers and a range of spectator seating options. Selection includes permanent grandstands, press boxes, existing structure renovations, standard portable bleachers and team benches. GT Grandstands offers a variety of standard bleacher styles with optional ADA accessibility features as well as custom design options. For more information, visit http://www.gtgrandstands.com or call 866-550-5511 for a consultation.
About PlayCore:
PlayCore helps build stronger communities around the world by advancing play through research, education, and partnerships. The company infuses this learning into its complete family of brands. PlayCore combines best-in-class planning and education programs with the most comprehensive array of recreation products available to create play solutions that match the unique needs of each community served. PlayCore's corporate headquarters is located in Chattanooga, Tennessee. More information is available about PlayCore, Inc. at http://www.PlayCore.com.