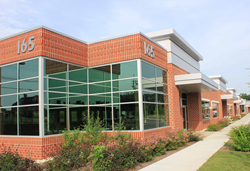 I am excited to make access to care more convenient for the surrounding Washington, D.C. community. Expanding the services we offer and treating the whole couple supports our core mission as a practice
(PRWEB) April 11, 2016
Shady Grove Fertility's Frederick, MD, office moved to a new, expanded location. Paul R. Shin, M.D., Shady Grove Fertility's full-time reproductive urologist and male fertility specialist will be seeing patients at the new Frederick location, as well as Jason Bromer, M.D., Melissa Esposito, M.D., and newly added Lauren Roth, M.D.
The larger office space will allow for a broader array of services offered to couples who are seeking help to overcome infertility. With an in-house reproductive urologist, patients will have easier, more convenient access to a suite of male infertility services from a highly regarded board-certified urologist and male fertility specialist—services that previously required a referral to a urologist outside of the practice. Male factor infertility accounts for up to 50 percent of all infertility cases.
Dr. Shin earned his medical degree from the University of Virginia School of Medicine in Charlottesville, VA. He completed his residency in urology at the University of Virginia before completing his fellowship in male infertility at the Cleveland Clinic Foundation's Glickman Urological Institute. Dr. Shin has held many leadership positions in the male infertility and urology community and earned many honors through the years, including being named a Washingtonian Top Doc in 2007, 2009, 2011, 2013, and 2015.
"I am excited to make access to care more convenient for the surrounding Washington, D.C. community. Expanding the services we offer and treating the whole couple supports our core mission as a practice," said Dr. Shin.
About the New Frederick, MD Office
Located at Aspen Ridge Professional Center—165 Thomas Johnson Drive, Suite F, Frederick, MD, 21702, the new Frederick, MD, location offers convenient access to quality fertility care. To schedule an appointment with Dr. Shin, Dr. Bromer, Dr. Roth, or Dr. Esposito, call 1-888-761-1967.
About Shady Grove Fertility
Shady Grove Fertility is a leading fertility and IVF center of excellence offering patients individualized care, innovative financial options, and pregnancy rates among the highest of all national centers. Since 1991, more than 40,000 babies have been born to patients from all 50 states and over 35 countries around the world. Shady Grove Fertility physicians actively train residents and reproductive endocrine fellows and invest in continuous clinical research and education to advance the field of reproductive medicine through numerous academic appointments and partnerships with Georgetown Medical School, Walter Reed, and the National Institutes of Health. Today, 34 reproductive endocrinologists, urologists, Ph.D. scientists, geneticists, and more than 600 highly specialized Shady Grove Fertility staff care for patients in 18 full-service offices, and five satellite sites throughout Pennsylvania, Maryland, Virginia, and Washington, D.C. For more information, call 1-888-761-1967 or visit ShadyGroveFertility.com.