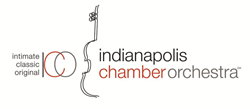 "The social significance and messages in this work are both timely and incredibly relevant for individuals residing in Indiana and around the globe."
Indianapolis, Ind. (PRWEB) April 08, 2016
The Indianapolis Chamber Orchestra (ICO) will present Peacemakers, a commissioned, comprehensive work by ICO Composer-in-Residence James Aikman, on April 15, 2016, at 7:30 pm at the Howard L. Schrott Center for the Arts on the campus of Butler University. A signature project of Indiana's Bicentennial Commission, Peacemakers has deep ties to Indiana. Both ICO Composer-in-Residence, James Aikman and ICO Music Director and Principal Conductor Matthew Kraemer are Indiana natives, and audio-visual elements of the world premiere include historic "peacemaker" moments in Indiana history.
The multi-movement work recognizes nine peacemakers of the 20th century in a work for chamber orchestra with chorus, soloists, narration, and audio-video projections. Mahatma Gandhi, Nelson Mandela, Yitzak Rabin, Anwar Sadat, Martin Luther King, Jr., Robert Kennedy, John F. Kennedy, Eleanor Roosevelt, and Jimmy Carter are celebrated in this culturally inclusive project. Aikman, who composed and created the concept of Peacemakers, said he was inspired to perpetuate the legacies of individuals who fought for peace around the world in the 20th century. "Each of the peacemakers was committed to advancing peace and human dignity and their lives serve as inspiring models for a world still seeking peace," Aikman said.
A collaborative experience integrating the talents of renowned solo artists and performers, Peacemakers brings together the artistry of the ICO with the musical talents of solo artists Rob Dixon, jazz saxophone; Kathryn Krasovec, mezzo-soprano; and Dan Tepfer, 2007 American Pianists Association Cole Porter Jazz Fellow. Tenors Steven Stolen and George Shirley will narrate. The Indianapolis Children's Choir and Encore Vocal Arts will perform the chorus parts. An accompanying video including footage of Peacemaker Robert F. Kennedy's historic remarks in Indianapolis on the evening of Martin Luther King's assassination is produced by Mike Halerz.
The creative process in premiering a new work is exciting and we feel very blessed to have the support of community advocates who believe in the power of music to influence the community for the common good," ICO Executive Director Elaine Eckhart said. "The social significance and messages in this work are both timely and incredibly relevant for individuals residing in Indiana and around the globe."
The ICO is partnering with the Peace Learning Center and the Desmond Tutu Center to present pre- and post-concert discussions to broaden community impact and address issues of peaceful conflict resolution in the community.
Presented as part of Butler ArtsFest 2016, https://butlerartsfest.com/, Peacemakers is made possible, in part, with support from the Indiana Arts Commission and the Christel DeHaan Family Foundation. Adult tickets are $30, student tickets are $12 and group discounts are available. Tickets may be purchased by calling the ICO at (317) 940-9607 or visiting http://www.icomusic.org.
This activity is a signature project of the Indiana Bicentennial Commission, and is made possible, in part, with support from the Indiana Arts Commission and the Christel DeHaan Family Foundation.
About the Indianapolis Chamber Orchestra: The Indianapolis Chamber Orchestra's ongoing mission is to advance and promote music composed for the small orchestra through professional concert performances and education programs. Tune in to WFYI, 90.1 FM each Monday evening at 10:00 p.m. and Sunday evenings at 9 p.m. to hear the Indianapolis Chamber Orchestra Broadcast featuring excerpts of live ICO concerts. Filling a much-needed role in the community, the Indianapolis Chamber Orchestra also provides accompaniment to many area arts and educational organizations. The ICO offers a variety of educational programs, including the FUNtastic Classics and in-school Artist Residencies. Intimate concert experiences, classic repertoire, and original programming are all part of the ICO experience. For more information about the Indianapolis Chamber Orchestra and its 31st "Intimate, Classic, Original" season, visit icomusic.org, call (317) 940-9607, email info(at)icomusic(dot)org, or visit us on Facebook and Twitter.
####
The ICO's 31st Season is sponsored by Sheraton Indianapolis City Centre Hotel.
Additional support is provided by the Arts Council of Indianapolis, the City of Indianapolis, and the Indiana Arts Commission.