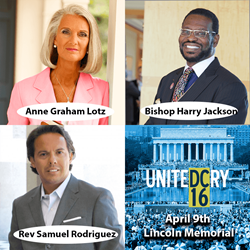 It is important that we focus on honoring the true dream of Dr. Martin Luther King, Jr., stand on the rock of brotherhood and inspire others to be bridges of hope. Bishop Harry Jackson, Jr.
Washington, D.C. (PRWEB) April 07, 2016
In a time in which America seems to be facing its deepest divisions of this century, thousands of pastors and Christian leaders are coming together to express their solidarity in Christ and commitment to Americas future. United Cry DC16 is nonsectarian, multi-denominational, multi-ethnic convergence of pastors and believers dedicated to prayer, healing of racial strife, and building brotherhood and cultural engagement. This first national pastors' prayer meeting on Saturday, April 9, from 8:30 am - 4 pm, will gather at the Lincoln Memorial in the same location where Dr. Martin Luther King delivered the famous "I Have a Dream" speech.
"America is in crisis. People are worried about their jobs, families, future, terrorism, racial conflict and the attacks on biblical values," states Lewis Hogan, Founder of United Cry DC16. "Only a united church can heal a divided America."
One major focus of the gathering is to repent for racial division, hatred and prejudice and ask for divine healing for communities. Members of the families of Dr. Martin Luther King, Jr. and historical author Alex Haley will participate in a "repentance, sanctification and racial reconciliation" section and a special "foot washing and mantle passing ceremony." The Reconciled Church initiative is hosting the "Defenders of the Dream" section.
"All across America I am hearing the sound of angry voices, accusation and contention." says Bishop Harry Jackson Jr., Senior Pastor of Hope Christian Church in Beltsville, Maryland and founding member of The Reconciled Church Initiative. "It is important that we focus on honoring the true dream of Dr. Martin Luther King, Jr., stand on the rock of brotherhood and inspire others to be bridges of hope," Jackson asserted. (Watch Bishop Jackson discuss the role of the church in racial reconciliation, the "Dream" and United Cry movement .)
April 9 will be a historic day for the American church with two National prayer events being held in Washington Dc and Los Angeles. Sharing the same goals, of love, brotherhood, and healing, a "Bridge of Prayer" will extend from coast to coast in a prayer simulcast with AzusaNow at the LA coliseum.
United Cry DC16 has connected several of the largest protestant denominations, leaders of the nation's mega churches with thousands of pastors to cry out for the mercy of God upon American. Over 70 leaders will present including Ronny Floyd, Jim Garlow, Anne Graham Lotz, Gen. Jerry Boykin, Harry Jackson, Tony Perkins, George Wood, Jonathan Cahn, Kenneth Copeland, Sammy Rodriguez, Dick Eastman, Alveda King, Michael Brown, Dave Butts, Larry Tomzcak, Paul Cole, E.W. Jackson, Doug Stringer, Mike Evans, Lawrence White, Kaye Horner, James Bradford, Jerry Machain, Will Ford, Bobby Schuller, Dan Fischer, Rick Curry, Bob Rodgers, Matt Lockett, Randy Forbes, Dan Cummins and others. Worship will be led by Rita Stringer of Gateway Church, Jacobo Ramos and the Jones Family. The prayer gathering from 8:30 am- 4pm will ask God for forgiveness, spiritual awakening, and declare the United States is "One Nation, Under God."
Doug Stringer of Somebody Cares America and The Response best explains why so many pastors and leaders are involved with United Cry. "God has given us each a fishing line, but when we lay down our own agendas to become part of something bigger than ourselves; then God will take our fishing lines and weave them together into a net that is large enough to catch the fallen, rescue the lost, and heal the wounded, and dying in our communities."
For more information go to UnitedCry.com
For schedule and speakers visit EventMobi.com/UnitedCry
For media interviews contact Lynn Scarborough (469)951.7051 Lynn4media(at)gmail.com or
Dianne Rogers, 615 400-3134, Dianne(at)BrimstoneServices.com,
To register for media - Lynn4media(at)gmail.com, Media tent 469 992-3556
Follow United Cry on Facebook, Twitter and Instagram.
UnitedCry DC16 will be live on radio, TV and on the internet, find listings on website.
# # #
About
All Christian pastors, leaders, and believers are invited to join national Christian leaders to lift a United Cry together at this historic, multi-ethnic, multi-generational, gathering on April 9, 2016 from 8:30 am to 4:00 pm at the Lincoln Memorial in Washington, D.C. The event is free but registration required. Register now at UnitedCry.org.