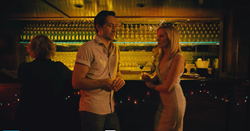 Los Angeles, CA (PRWEB) April 12, 2016
British culture and its people pervade the US entertainment industry. Whether it's their classically trained actors such as Benedict Cumberbatch and Julie Andrews, their stunning locations such as Leadenhall Market, which became the original Diagon Alley in Harry Potter and the Sorcerer's Stone, or their iconic history as depicted in classic films such as Lawrence of Arabia, the UK is continually present in cinematic history. From James Bond to Downton Abbey, Hollywood cannot seem to get enough of the UK.
An official event of LA's 10th annual BritWeek celebration, NewFilmmakers Los Angeles (NFMLA) celebrates ​cinema from across the United Kingdom on April 30th. This month's event​ will include ​two InFocus ​shorts program​s which showcase films from the UK​ as well as a feature film program. In between films, audiences can check out filmmaker Q&As, meet and mingle with one another in the premium 1150 Olive​ Center​ lounge, and enjoy cocktails on the balcony in Downtown LA. Details on the featured films playing at the film fest can be found below.
Shorts Program #1 - InFocus: UK Films in Partnership with BritWeek
Delicate Things - Directed by Patrick Maxwell
A morning just like any other takes a tragic turn for Jonathan and his family when his wife Louise, is killed in an explosion outside their local shop. Tormented with grief Jonathan struggles with life as a single parent while battling the urge to avenge his wife.
This team of emerging UK filmmakers is accompanied by a fantastic cast including Paula Malcolmson (The Hunger Games, The Hunger Games: Catching Fire, The Green Mile) and newcomers, Ciaran McMenamin and James Stockdale.
The Balance - Directed by Daniel Lament
In a world where good and evil struggle to keep balance, Peter tries to reunite with his long lost sister. Yet the only way to find her is to heed the advice of the mysterious woman from his dreams.
The Balance makes its world premiere at NewFilmmakers Los Angeles.
Scattered - Directed by Joshua Bregman
After a 15-year wait, Conal is going to meet his father for the first time. His father Keith, is the world's most notorious criminal, convicted of a crime which changed history itself. Convinced of his father's innocence, Conal needs Keith's help to set the record straight. But his quest for justice takes an unexpected turn and Conal soon finds himself confronted with the unimaginable.
This atmospheric film is the first ever screen-adaptation of the work of award-winning sci-fi author Ken MacLeod, and as his other stories, it offers a vision of the future that illuminates the present.
Indie filmmaking writer/director, Joshua Bregman said, "Scattered seeks to raise these questions in a time when we find ourselves racing into the future at a breathtaking clip and technology gives individuals enormous power over world events."
Textual Relationship - Directed by Syd Heather
Digital love blossoms when Uniquetalent_33 and DarkDemon92 meet each other online. However, when the time comes to actually meet it becomes painfully clear that their physical connection doesn't quite live up to their online one…
Following his time at Telegraph Hill as the lead digital producer for the final series of BBC's MERLIN, writer/director/producer, Syd Heather, pursued freelance producing full time and has created content for the BBC, NHS, MENSA, DIRTYBIT and GROUNDWORK.
Textual Relationship marks its Los Angeles premiere at NewFilmmakers Los Angeles.
Talgar the Hunter - Directed by Charlie Crane
Talgar the Hunter is a beautiful, peaceful and moving short film about loss and reconciliation. Part documentary, part fable. Talgar takes a journey through kyrgyzstan's bleak landscape to heal his closest companion Tumara the Golden Eagle. There is only one man alive that can bring inner peace back to this quiet hero.
Film director Charlie Crane makes his directorial debut with Talgar the Hunter, which premiered at the Cannes Film Festival.
Shorts Program #2 - InFocus: UK Films in Partnership with Brit Week
White Awake - Directed by Alex Kyrou
Joshua seemingly has everything. But he isn't whole. During therapy, he recounts a story about his hoarder friend Robert and his adopted son, who one day discovers the remains of a seahorse. And Joshua is finally confronted with a question regarding his story: "Does it mean something to you?"
Director, Alex Kyrou, who has worked on films such as Dark Shadows, Blades of Glory, and Night at the Museum, makes his directorial debut as a writer/director/editor with White Awake.
Jellyfish - Directed by Andrew Jonathan Smith
Sam finds his gaze trapped: on a holiday poster, on a friend of a friend, on a memory of jellyfish being run ashore by the current. Jellyfish is a short film which deals with the significance that can be attached to people and objects through emotional projection.
Jellyfish makes its North American Premiere with a filmmaker of many hats, Andrew Jonathan Smith, who wrote, directed, produced, and edited this film.
Waiting for Dawn - Directed by Cousins Richard
A young soldier and his experiences in the First World War. It highlights the hardships and horrors faced by many young men who served in the Army during that time. Based on true events.
Emerging director, Richard Cousins, has been honored with various awards, including Best Director at IVCA Awards, Best Film at New York Festival, Best Director at San Francisco International Film Festival, and Best Film at New York Film Festival. He is accompanied by an experienced cast and crew including cinematographer Alan Stewart, (Creed, Spectre, Into the Woods, Elizabeth, Anna Karenina), actor Jason Furnival (The Brothers Grimsby, Downton Abbey, Coronation Street), actor George Rainsford (Waking the Dead), and actress Gina Bramhill (Coronation Street, Being Human).
Blast from the Past - Directed by Dir. Steven Huffaker
While unenthusiastically waiting for a "date' with an estranged friend from high school, Sandy plucks up the courage to make small talk with a tall, dark and handsome stranger. But will the stranger's secret derail her date and her chances with this mysterious dream man in one fell swoop?
Short film maker, Steven Huffaker has and all-star cast in this comedy short. Both lead actor, Adam Blake, and lead actress, Anna Sambrooks, were honored in the 2015-2016 BAFTA LA Newcomers Program.
Breathe - Directed by Paul Kowalski
A Polish surgeon is derailed by the haunting memories of his wife's death
Like others in this BritWeek program, writer/director Paul Kowalski was honored at the 2015-2016 BAFTA LA Newcomers Program. He directs actor Kristof Konrad (Chernobyl Diaries, Angels & Demons, Independence Day) as Dr. Filip Kardel and actress Alicja Bachleda (Ondine) as Ania Kardel in this dark drama.
Feature Film Program
Dating Daisy - Directed by Neel Upadhye
Dating Daisy is a romantic comedy about the honest and crazy truth of dating in your twenties. The story follows Michael and Daisy, two exes who decide to road trip home together for the holidays and get caught up in their crazy past.
Writer/director, Neel Upadhye, guides lead actress Erica Dasher (Jane by Design), who plays Liz, and lead actor, Joe Manfrellotti (Mad Men, Everybody Loves Raymond), who plays Nathan, in this indie comedy film. They are supported by actress Diane Robin (The Relic, RoboCop) as Eleanor, actress Lisa Roumain (Avatar) as Ana, and actor Marque Richardson (Dear White People, The Newsroom, True Blood) as Marcus
Located in Downtown LA, 1150 Olive Center is the Presenting Venue Sponsor of NewFilmmakers LA film festival. Founded in 2007, NFMLA has screened over 1350+ films from over 67 countries. The organization provides a forum where filmmakers can be recognized with title supporters Sony Pictures Entertainment, DreamWorks, TheWrap, SAG-AFTRA, and FilmLA.
For information or to reserve tickets to the NewFilmmakers LA April 30th screening, please visit http://www.NFMLA.org.