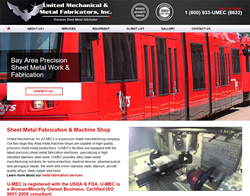 We wanted a local web design and SEO company we could trust.
Hayward, CA (PRWEB) April 08, 2016
United Mechanical & Metal Fabricators, Inc. (U-MEC), one of the very few "woman, minority owned" precision metal machine shops in California, launched a new company website this week. From their old, non-mobile HTML website, U-MEC's new, full screen, mobile responsive WordPress website is easier to read and faster to load.
"We wanted a local web design and SEO company we could trust, who also had some background in manufacturing and trades website design," said the President and owner, Gina Wang. "KO Websites of Castro Valley had this background, great references and was capable of getting this projected completed with minimal input. The website was completed on time and on budget."
About U-MEC
United Mechanical, Inc is a Bay Area woman, minority owned, metal machining and fabrication company, that is ISO 9001:2008 certified and FDA and USDA certified, too.
Established in 1982, U-MEC has been providing contract support to major enterprise size manufactures around the country. Additionally, we offer local design and custom metal manufacturing, using the most state-of-the-art machines.
"Our 35,000-square-foot facility in Hayward and our new 18,000-square-foot metal fabrication Machine Shop in Union City are perfect for small and large precision sheet metal production."
U-MEC's facilities are equipped with precision sheet metal fabrication machinery and other metal fabrication equipment. We specialize in stainless steel work. We are capable of providing machining services for ultra clean solutions, including semiconductors, disk drives, medical devices, pharmaceutical and aerospace. U-MEC works with a wide variety of materials and thicknesses including mirror stainless steel, titanium, aircraft quality alloys, steel and copper. For more information, please visit http://www.umec.net/
About KO Websites
KO Websites is an award winning web design firm based in the San Francisco Bay Area. They offer mobile friendly, responsive web design and search engine optimization (SEO) services.The company's design team specializes in building custom, responsive, fully optimized WordPress and HTML5 websites. Through its sister brand (SEOPRO.pro), KO Websites also offers the "All n1 Power Plan." This digital marketing package includes full-service social media marketing, SEO, website management, hosting and more. For questions regarding any aspects of digital marketing, contact the team at KO Websites http://www.ko-websites.com/