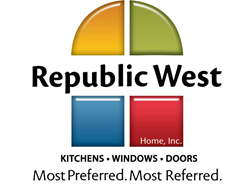 (PRWEB) April 11, 2016
Republic West Home teamed up with J&K Cabinetry as part of their efforts to give Phoenix homeowners more affordable kitchen remodeling.
Republic West Home always strives to offer top quality products while keeping prices affordable enough so that the average homeowner can have the kitchen of their dreams. Republic West Home has joined forces with J&K Cabinetry, as they are able to offer stylish, high quality cabinets homeowners love while keeping prices in a realistic range for them.
J&K Cabinetry has been in business for 10 years and strives to offer the highest quality cabinetry and craftsmanship. Their partnership with Republic West Home will improve the quality, price and experience for all customers.
Republic West Home is a licensed, bonded and insured contractor servicing Scottsdale and Phoenix, Arizona, as well as Las Vegas and all surrounding cities. Free estimates can be obtained seven days a week by calling (480) 423-9300.
About Republic West Home:
Republic West Home is a company that stands for quality, honesty and the best value. Our vision, in an industry often lacking ethics and reliability, is to deliver the best home improvement experience possible.
To deliver the best possible experience before, during and after the completion of your project, an extensive team of professionals was put in place: employees driven to make the home improvement experience a great one for you, our customers. The formula works and the pleasant experiences we create for our customers have paid off. In an industry where repeat business averages less than 5%, Republic West Home and our 15,000+ clients generate an amazing 50% of our business from previous customers and referrals.
For additional information, please call 480-423-9300 or visit http://www.republicwesthome.com
Media contact:
Jason W. Jantzen
Phoenix Marketing Associates
http://www.PhoenixMarketingAssociates.com
602-282-0202
XXX