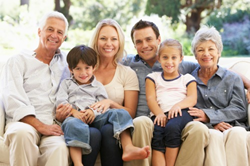 An increasing number of baby boomers are searching for a home that can accommodate more than one generation under the same roof, and developers of master-planned communities are responding to this trend with specially designed floorplans and amenities.
Libertyville, IL (PRWEB) April 08, 2016
Marian Schaffer, Principal and Founder of Southeast Discovery, a real estate consulting firm specializing in guiding Baby Boomers with their real estate needs in the niche markets of retirement relocation and second homes in the Southeast region, recently commented on the rising demand for multi-generational housing and its impact on lifestyle and master-planned communities in the Southeast.
"We've noticed that an increasing number of our relocating baby boomer clients in the last few years are searching for a home that can accommodate more than one generation under the same roof, all living together comfortably, and in a community that caters to extended families with their amenities and activities," said Schaffer. "Luckily, several quality developers of lifestyle and master-planned communities in the Southeast are responding to this trend with specially designed floorplans and amenities that meet the needs of this subset of home buyers."
According to the 2015 National Association of Realtors (NAR) Home Buyer and Seller Generational Trends Report, 13 percent of all home purchases in 2014 were by a multigenerational household, consisting of adult siblings, adult children, parents and/or grandparents, with baby boomers representing the largest share of multigenerational buyers.
Schaffer noted that increased demand for multigenerational housing among the baby boomer clients she works with is a result of a number of factors, including adult children moving back home, aging parents in need of care moving into the residence, or the desire to save on living expenses.
Schaffer shared the following ways Southeast master-planned communities are designing homes and creating amenities to meet this rising demand:
Multi-generational floor plans: These floor plans might include an additional master suite for aging parents or grandparents or an adult child returning home; "non-disturbance zones" designed to allow all family members to enjoy their space in peace, and a floor plan with two master bedroom suites on the first floor, but on separate sides of the house with the living area and kitchen in the center.
ADA-friendly features: Wider doorways and zero-step thresholds are becoming more common, as are features like roll-under counters and vanities, and showers or baths that are step-in or can accommodate a wheelchair.
Privacy and independence features: Also becoming more common are houses that include apartments with separate entrances, or homes with a separate exterior entrance and an interior door to the rest of the house. A separate "in-law suite" with its own kitchen, bath, bedroom, and accessible living area is also an increasingly available design feature.
In addition to multi-generational floor plans and home designs, developers are also building or enhancing amenities with the three-generation family in mind, according to Schaffer. Amenities like indoor and outdoor pools, fitness centers, nature centers, event lawns for summer celebrations or community events, equestrian centers, hiking and biking trails, and athletic fields/courts have been incorporated into the master design of many Southeast communities for the entire multi-generation family to enjoy. Some communities have even created seasonal summer camps and grandparent activities specifically for the youngest and oldest members of the extended family.
"In an era where family members don't often live in the same town or state as in generations past, it's nice to see the multi-generational housing trend, with grandchildren growing up with their grandparents and aging parents being cared for by their boomer children, on the upswing," said Schaffer. "With that said, for it to work harmoniously for everyone involved, carefully designed floor plans that accommodate this new reality are very important, and master-planned communities that cater to all age groups in terms of activities and amenities are a real plus."
About Southeast Discovery
Since 2004, Southeast Discovery has been a trusted resource for candid information and insight on communities, developments, and general real estate in the Southeast. Through its highly-ranked web portal, newsletter and blog and its one-on-one work with clients, Southeast Discovery helps buyers actively looking for a retirement or second home in the Southeast navigate the process of identifying the right area and community for their needs. To learn more, visit http://www.southeastdiscovery.com/.