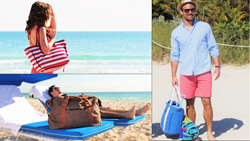 There's never been a Beach Bag that was designed with the real needs of modern beachgoers in mind, so we decided to make the ultimate beach bag
CHICAGO, IL (PRWEB) April 08, 2016
DEZZIO, the World's First Functional Beach Bag has blown away its $20,000 Kickstarter goal in just 72 hours and at over $24k raised and counting, DEZZIO is on pace to become one of the biggest beach product Kickstarter campaigns of all-time.
Like many of the most successful crowdfunding campaigns before it, DEZZIO is solving a problem that millions of consumers can relate to. DEZZIO is the solution to sandy and wet smartphones, wallets and other valuables at the beach.
The first of its kind design offers separate pockets for all beach essentials including clothes, sunscreen, beach towels, wallets, tablets, smartphones, flip flops, etc. There's also a built-in protective case to keep sunglasses scratch free and a key holder to easily access keys.
DEZZIO features a unique concealed sand-discharge mesh at the bottom which helps get rid of all the sand from the inside of the bag. It also comes with a re-usable washable bag to keep wet items separate from everything else, especially electronic devices.
"There's never been a Beach Bag that was designed with the real needs of modern beachgoers in mind, so we decided to make the ultimate beach bag," said Aditi Agarwal, DEZZIO Co-founder. "DEZZIO is perfect for beachgoers who want to be fashion conscious while keeping their devises and clothing sand-free. We show off all of the benefits of DEZZIO in our Kickstarter Video and it's really struck a chord with people relating to the problems that DEZZIO solves."
DEZZIO comes in three styles and different sizes for men, women and families. DEZZIO is available for pre-order on Kickstarter with First Week Exclusive Pricing ending today (starting from $49).
For more information, and to pre-order the DEZZIO beach bag visit:
https://www.kickstarter.com/projects/203527729/dezzio-the-worlds-first-functional-beach-bag?utm_source=pr&utm_medium=pr&utm_campaign=pr
Own it to experience it!
About DEZZIO
DEZZIO LLC is a Chicago based product design firm. The company aims at creating innovative designs for fashion products to enhance the experience of the end-user. Co-founded by Aditi Agarwal, a fashion expert with an extensive experience in Fashion Technology and a Master's in Fashion Marketing from ESMOD Paris, DEZZIO is launching the World's First Functional Beach Bag on Kickstarter. Akshay Jain, Co-founder of DEZZIO, has a background in Investment Banking and is currently pursuing his MBA from the prestigious Kellogg School of Management at Northwestern University.