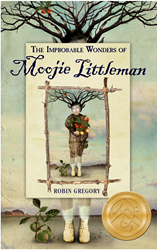 "With such an over-the-top array of talent this year, it is a tremendous honor to have been chosen,"
Carmel, California (PRWEB) April 08, 2016
Mad Mystical Journey Press and Wyatt-MacKenzie Publishing, Inc. are pleased to announce The Improbable Wonders Of Moojie Littleman, by Robin Gregory, has been recognized as Gold Medal Winner of the Best Cover Design in the 2016 Independent Publishers Book of the Year Awards.
The 19th annual "IPPY" Awards will spotlight the year's best independently published books at a gala celebration on May 27th during the annual BookExpo America publishing convention in New York.
This year, gold, silver and bronze IPPY medals are being awarded in 78 national, 24 regional, and ten e-book categories, chosen from nearly 6,000 entries from authors and publishers in all 50 U.S. states, eight Canadian provinces, and 34 countries overseas. The winners make up a reading list that is extensive and diverse, featuring new voices and viewpoints passionately expressed through soulful memoirs, insightful self-help books, and penetrating critiques of our social and political systems. Read full list.
"Congratulations to all the medalists for their independent spirit and dedication to excellence in an always-changing world of publishing and bookselling," said Jim Barnes, Managing Editor & Awards Director.
The Independent Publisher Awards are presented by IndependentPublisher.com, "The Voice of Independent Publishing," operated by publishing services firm, Jenkins Group of Traverse City, Michigan.
"With such an over-the-top array of talent this year, it is a tremendous honor to have been chosen," said Robin Gregory, author and publisher of The Improbable Wonders Of Moojie Littleman. "Much of the cover's success is owed to Catrin Welz-Stein, the gifted artist who created the central image."
Mad Mystical Journey Press is an imprint of Wyatt-MacKenzie Publishing, Inc., an award-winning publisher established in 1998. Wyatt-MacKenzie has published hundreds of books over the last 17 years, offering both traditional and supervised independent projects, international distribution, and unprecedented marketing support.
Robin Gregory has worked as a journalist, lay minister, and infant massage instructor for mothers and babies at risk. Her studies were focused on Literature and Creative Writing at University of California, Santa Cruz and Stanford University Writer's Workshop. She lives in Carmel, California with her husband and son.
The Improbable Wonders Of Moojie Littleman, a novel written for fluent readers of all ages, also won the Gelett Burgess Children's Book Award 2015 (Young Adult Fiction), The Wishing Shelf Book Award (Adult Fiction) 2015, and is a current finalist in the Foreword Reviews Indiefab Best Young Adult Books of the Year.
Description: Set at the turn of the nineteenth century, it is a coming-of-age story, told with a dose of humor and magical realism. After his mother dies in a freak accident, eight year-old, disabled Moojie is sent by his disapproving father to live at St. Isidore's Fainting Goat Dairy, where he befriends a clan of outcasts from an alternate universe. Forbidden friendship, first love, and miracles reveal an extraordinary boy's tale of loss and connection, determination and self-discovery.
The book is available from bookstores and all major online booksellers. Paperback and ebook formats.
Production of the audio book is underway. Look for the release later this spring!