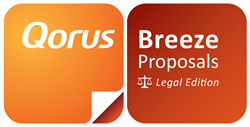 Visit Qorus Software at booth 56 at the LMA Annual Conference to see the expanded edition of Qorus Breeze Proposals.
Bellevue, Washington (PRWEB) April 08, 2016
Attendees of this year's Legal Marketing Association (LMA) Annual conference are invited to visit Qorus Software's booth (#56) to discover the expanded experience capabilities and industry integrations available in Qorus Breeze Proposals - a solution that is already popular among law firms.
Ray Meiring, CEO of Qorus Software, explains: "We have had great success working with law firms around the world, and felt that it was time to take our solution to the next level by expanding it even further for the legal sector."
The legal edition of Qorus Breeze Proposals includes an experience database and integrates with a wide range of CRM systems including Thomson Reuters Elite, Microsoft Dynamics and SFDC, as well as with popular website content management systems such as Sitecore and Drupal. The system also connects to iManage and InterAction.
Another enhancement to note is that of its system reporting functionality. Firms are now able to easily track win/loss rates, project status, and more.
Qorus Software will be running live demonstrations at the Annual LMA Conference taking place at The JW Marriott Austin in Austin, Texas, from April 11 - 13.
Visit them at booth 56 in the exhibition area.
----
About Qorus Software
Qorus Software is a global provider of easy-to-use yet sophisticated proposal management and document automation solutions that accelerate the sales process.
Its software simplifies the tasks of creating, collaborating on, maintaining, and sharing bid, proposal, sales and marketing content. Even the most non-technical of users can create, edit and build templates and documents in Word, Excel and PowerPoint.
Qorus Software has offices in Seattle, London and Cape Town.
For more information, visit: http://www.qorusdocs.com
For more about the Legal Marketing Association Conference, visit: http://www.legalmarketing.org/annual_conference