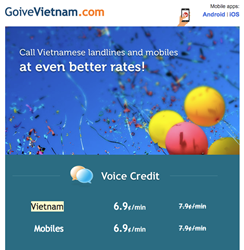 "Excellent. It is good service for top-ups for me, for my brother and my tanker team." (Phuc Nguyen on Trustpilot.com)
Atlanta, Georgia (PRWEB) April 11, 2016
Vietnamese expats can now enjoy lower rates on their international calls to Vietnam landlines and mobiles due to the recent 13% price drop on GoiveVietnam.com. The offer is available until further notice. The new unique rate to call Vietnam is 6.9¢/min, no matter the country the calls are placed from. That means people get 144 minutes for $10 now, 13% more than before. This rate is available for both new and existing customers on GoiveVietnam.com who purchase Voice Credit. It takes less than 1 minute to get Voice Credit balance, it comes with free features and Thank You points, there are no hidden fees, and the credit never expires on http://goivevietnam.com/rates
Such online services offers much lower rates than any calling cards available on the market, due to the VoIP system they use, and the smart protocols they sign with global operators worldwide. That is why many expats prefer to top up their calling balance online, instead of taking time and hassle to buy a traditional calling card from a store that has many extra costs to cover for all their offline expenses.
New customers with GoiveVietnam.com have the chance to open a free account on GoiveVietnam.com and try the calling-texting Voice Credit service for as little as $2. Having a $2 balance gets one 28 international minutes to Vietnam, as well as other destinations in the world.
Frequent promotions around important holidays and Thank You points bring Vietnamese who register on GoiveVietnam.com more advantages: free international calls, bonuses on mobile top ups sent to Vietnam, etc. To stay updated, someone should press the button "Get offers" in the footer of the website to get the offers by email.
For those wondering how to call using the international Voice Credit service on GoiveVietnam.com, here are some details:
-Calls can be placed using Keepcalling app from App Store or Play Store. The app costs nothing to install on one's Android or iOS device, balance can be updated from the app directly, and calls can be made using the phone Contacts, just like a standard call.
-For those who want to place a call without using WiFi, 3G or 4G, access numbers are the key. Just like in traditional calling cards, one should use an access number in his/her area to call from any phone to any type of phone abroad, whether smartphone, old school phone, payphone or else. The list of access numbers is available on the website: http://goivevietnam.com/access_numbers
-Web Call is a desktop app that requires no download, available in one's account with GoiveVietnam.com. It is useful for calls to any phone, but it requires a new version of Java and Internet access.
Vietnamese abroad who use GoiveVietnam.com appreciate the easiness of the service, the rates and the high call quality, the 24/7 responsive and kind customer care, the promotions, the Thank You points program that gets them gift international calls, the lifelong credit and the no-hidden fees policy.
A second service for the Vietnamese diaspora is Mobile Recharge. This facilitates mobile credit top ups from one country to another. Top ups are made directly on the website and because they are online they take less than 1 minute to carry out. Top ups can be made to any prepaid cell phone in Vietnam that uses one of the major local networks: Mobifone, Viettel, Vinaphone, Vietnamobile, S-Fone, GMobile.
There are weekly promotions for Mobile Recharges of cell phones in Vietnam from abroad, especially to Mobifone, Viettel and Vinaphone.
GoiveVietnam.com is an interactive website designed by KeepCalling, a global telecommunications company registered in 2002 in USA. Presently, KeepCalling provides its services to hundreds of thousands of consumers and businesses worldwide, with a focus on customer satisfaction. KeepCalling has been listed by Inc 5000 as one of the fastest growing companies in the USA for 5 consecutive years. In 2015 the company registered a revenue increase of over 200% from 2011 to 2014.