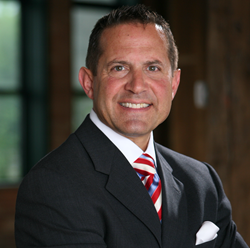 Santa Rosa, California (PRWEB) April 12, 2016
i2i Systems, an early innovator and pioneer of population health management (PHM) technology, will host orthopedic surgeon Dr. Matthew Tomaino as the keynote speaker for its annual user conference, to be held May 19-20 in Las Vegas Nevada.
Tomaino, a practicing orthopedic surgeon for 22 years, will detail his journey from rejecting to embracing the concept of collaborative, team-based care for his patients. "Individual expertise and technology provide a platform for successful outcomes in healthcare, but they can't produce exceptional care in the absence of a high performing team," says Tomaino. "Team care focuses on leveraging the patient relationship as the focus of our collective efforts."
Tomaino's philosophy supports i2i Systems' own perspective on the real value of population health solutions to improve patient care. "Dr. Tomaino knows that collaborative care, where patient and provider incentives are truly aligned and care teams are working as a synchronized team can't happen without the right PHM platform delivering insights into practice workflow," says Justin Neece, chief operations officer for i2i Systems. " We are grateful to have Matt join us along with several hundred industry veterans to drive PHM forward.
This year's user conference, "Transforming Outcomes," centers around the fact that data has become the new currency in healthcare. And, properly managed, data delivers actionable insights that make the difference in providers streamlining and improving care, empowering patient engagement, and building collaborative relationships with payers.
For more details on the conference, click here.
About Matthew Tomaino
Matthew M. Tomaino, MD, MBA founded Tomaino Orthopaedic Care for Shoulder, Hand and Elbow LLC in Rochester, New York in July 2008. His practice is dedicated to surgical and nonsurgical care of the Shoulder, Hand and Elbow.
He was Professor of Orthopaedics at the University of Rochester Medical Center until June 2008, and Chief of the Division of Hand, Shoulder and Elbow Surgery and Director of the Hand and Upper Extremity Fellowship until April 2007. From January 1994 until September 2002, he was a member of the faculty in the Department of Orthopaedic Surgery at the University of Pittsburgh Medical Center and Chief of Microsurgery. He received his MD degree from the University of Rochester Medical School, and his MBA from the Katz Graduate School of Business. He is an active member of the American Society for Surgery of the Hand, the American Orthopaedic Association, and the American Academy of Orthopaedic Surgeons. Dr. Tomaino has contributed more than 100 journal articles and 50 book chapters, and is a member of the Editorial Boards of the Journal of Shoulder and Elbow Surgery, and the American Journal of Orthopaedics. He is certified as a Team Stepps Master Instructor.
About i2i Systems
A KLAS Leader in the delivery of actionable population health, i2i Systems' integrated Population Health Management and Analytics solutions have proudly served healthcare organizations for more than 15 years. The company offers a depth of experience gained from over 2,500 U.S. healthcare delivery sites across 35 states supporting 20 million lives. With i2i, healthcare providers optimize the clinical, financial and operational success of physician group practices, community health centers, health center controlled networks, hospitals, health plans and integrated delivery networks. i2i's flagship product, i2iTracks, is 2014 PCMH NCQA pre-validated to ignite real-time, proactive care management. i2i System's big-data platform, PopIQ, delivers a cloud-based comparative analytics toolset to leverage multiple customers' data sets and provide cross-population views into global population health management.
To learn more, visit http://www.i2isys.com.
Contact:
Amanda Cecconi
615-473-7536
amandac(at)i2isys(dot)com