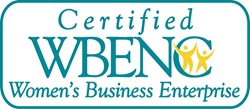 This certification from WBENC further validates CentraComm as one of the premier IT service providers in the nation. It gives us more opportunities to share the CentraComm story and our forward-thinking IT solutions
Findlay, OH (PRWEB) April 08, 2016
CentraComm, an industry leading managed IT solutions provider serving Fortune 50 to mid-market organizations, announced today that it has received national certification from The Women's Business Enterprise National Council (WBENC). Unique among managed IT providers, CentraComm's WBENC certification reflects its commitment to supplier diversity within corporations and government agencies.
"This certification from WBENC further validates CentraComm as one of the premier IT service providers in the nation. It gives us more opportunities to share the CentraComm story and our forward-thinking IT solutions," said Lynn Child, Founder and President of CentraComm. Child has been a cornerstone figure since the inception of CentraComm and leads a team of engineers, sales, and operations staff out of its downtown Findlay Ohio headquarters.
The WBENC certification, for women-owned businesses, certifies that a company is at least 51% woman/women owned. It is the most rigorous and sought after certification of its kind. Working with WBENC certified companies can help corporations fulfill contract obligations. Companies and government agencies that include women-owned businesses as their vendors show their commitment to fostering diversity.
About WBENC
The Women's Business Enterprise National Council is the nation's largest third party certifier of businesses owned and operated by women in the United States. WBENC is a resource for the more than 700 US companies and government agencies that rely on WBENC's certification as an integral part of their supplier diversity programs.
For additional information on WBENC visit http://www.wbenc.org/
About CentraComm
CentraComm is a woman owned managed IT solutions provider headquartered in downtown Findlay Ohio. CentraComm serves Fortune 50 to mid-market organizations throughout North America and manages networks across the globe. CentraComm has built its reputation by offering leading network security, routing, switching expertise while nurturing a culture of engineering and customer service excellence. CentraComm's security offerings are enhanced by the ability to leverage our carrier class data centers including a nuclear hardened, former United States defense department facility. The company has a strong presence in healthcare, service provider, financial, energy, education and manufacturing industry verticals. 
For more information on CentraComm, visit them online at http://www.centracomm.net