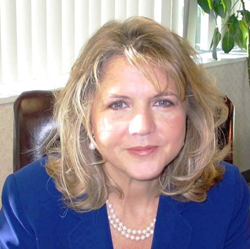 My vision is to help build a world-class organization, while still keeping the close-knit family culture that has made Axis so successful.
North Bergen, NJ (PRWEB) April 11, 2016
Axis Global Logistics, a leading provider of fully customized single-source supply chain solutions for companies in a variety of industries, is proud to announce that Paula Nitto, a recognized finance leader in the transportation and logistics industry, has joined the company as Chief Financial Officer.
"Paula comes to Axis with solid knowledge of our industry and excels in being a strategic partner and change agent who has driven financial health and growth for companies throughout her very impressive career," said John Cheringal, Managing Partner. "Paula is an excellent addition to the executive team, providing strategic financial oversight and strong operational support to assist with our long-term business objectives."
"My vision is to help build a world-class organization, while still keeping the close-knit family culture that has made Axis so successful," said Paula. "It is an honor to join a company that is leading the way into the future of logistics and its profound dedication to its employees and customers."
Paula has more than 25 years of financial management experience, including over 15 years in transportation and logistics. In 1998, Paula joined NYK Line (North America), a Japanese-owned company. For the next 16 years, she assisted senior management in developing a vision and strategy to improve and strengthen the finance organization as she climbed the corporate ladder to CFO. Before joining Axis, Paula was a Global Controller at Inttra, Inc.
Paula began her career in public accounting with Coopers and Lybrand (PwC) serving financial services, insurance and telecommunication, followed by various management positions at a telecommunications company, and CFO of an architectural firm, where she provided continuous improvements and increased profits. Paula is a Certified Public Accountant (CPA) in New York State. She holds a Bachelor's degree from Pace University.
About Axis Global Logistics
Axis Global Logistics is a third-party logistics (3PL) provider with 12 locations and over 1,500 agents worldwide, including in North America, Europe, and Asia. Founded in 1997 by veteran logistics professionals with decades of experience, the company provides clients across a broad array of industries and business sectors with deep expertise in supply chain management and the highest level of quality assurance. Axis' industry specific supply chain solutions are built on the knowledge of a powerful leadership team as well as industry leading web-based technology that provides clients with flexibility and real-time visibility and control throughout the process. For more information, visit http://www.axisg.com.