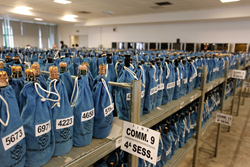 It was great to see that some little-known native cultivars that aren't yet a main focus of wine writers in Italy and abroad showed exceptionally well, which is a good omen for Italy's wine futures.
Verona, Italy (PRWEB) April 08, 2016
Italian native grapes once again took center stage at this year's 5 Star Wines, the evolution of Vinitaly's annual International Wine Award, held April 1-3 in Verona, in the run-up to the 50th edition of the world's largest wine event. A total of 2,700 wines from around the world entered the competition, and were judged on a 100-point scale; those that received a score of 90 points or more were awarded a 5 Star Wines badge. Although the winners represented the best of the international wine market – including one Chinese wine, a 2012 Cabernet Franc from Great Wall Chateau Yunmo – the competition also revealed that Italian native grapes are the source of some of the country's most compelling wines.
Under the guidance of Vinitaly International Managing Director Stevie Kim and Vinitaly International Academy Scientific Director Ian D'Agata, the international team of judges was led by an expert panel of General Chairmen: Paolo Basso, named the World's Best Sommelier in 2013; Bernard Burtschy, president of the French Wine Press and columnist for Le Figaro; Robert Joseph, Editor at Large for Meininger's Wine Business International; and Pedro Ballesteros Torres, a Master of Wine from Spain. Any wines that received an initial score of 88 or above were re-tasted by the General Chairmen. "This panel was specially selected for their deep knowledge of Italy's native grapes," explains Ian D'Agata, who acted as Chief Technical Officer of 5 Star Wines.
Of the top 30 wines in the competition, 22 were made with native grapes, and Italy's plethora of different grape varieties were well-represented; Ansonica, Biancolella, Cataratto, Dolcetto, Inzolia, Nebbiolo, Negro Amaro, Nerello Mascalese, Pecorino, Sangiovese, and Zibibbo were all among the top scorers. Italian native grapes took four of the top six prizes, including Best White, Best Rosato, Best Red and Best Sparkling (vat fermented).
"It was great to see that some little-known native cultivars that aren't yet a main focus of wine writers in Italy and abroad showed exceptionally well, which is a good omen for Italy's wine futures," says Dr. D'Agata. "Even more importantly, a number of these wines are fast reaching commercial importance, as the numbers of bottles produced annually are on a constant rise. Grape varieties such as Cagnulari and Muristellu had numerous winning wines in this year's edition of 5 Star Wines."
In addition to the breadth of single grape varieties represented, many of Italy's greatest wines performed admirably as well, with wines from well-known denominations scoring at or near the top: Amarone della Valpolicella, Conegliano Valdobbiadene Prosecco and Cartizze, Salice Salentino, and Vermentino di Gallura. "Interestingly, and very encouragingly, many outstanding Italian wines that are probably less well known abroad boasted top scorers, such as Gioia del Colle Primitivo, Isola dei Nuraghi, Moscadello di Montalcino, Prosecco dei Colli Asolani and Vin Santo," observes Dr. D'Agata.
The judges stated that the extremely high overall quality of all the wines entered into the 5 Star Wines competition was noteworthy, but came away especially impressed by the large number of outstanding Prosecco and Vermentino wines. The competition also served as a platform for winemakers to showcase their work on an international stage.
"You've got such a complicated offer in terms of Italian wine – more indigenous grape varieties than any other country in the world, and an often very confusing legislative framework that shapes your wine production," explains Monty Waldin, a UK-based wine writer and contributor to Decanter. "It's important for Italy to be able to expose its incredible offering of native grape varieties to a wide variety of professional buyers, sommeliers, and journalists, so they can then pass the message to normal consumers about just how fascinating and unique Italian wine is. It's about educating the people who are going to carry forward the message of just how diverse, complicated, challenging but enjoyable and unique Italian wine is – and this kind of competition helps achieve that."
About:
Veronafiere is the leading organizer of trade shows in Italy including Vinitaly (http://www.vinitaly.com), the largest wine and spirits fair in the world. During its 49th edition Vinitaly counted some 4,000 exhibitors on a 100,000 square meter area and 150,000 visitors including 2,600 journalists from 46 different countries. The next edition of the fair will take place on 10 - 13 April 2016. The premier event to Vinitaly, OperaWine (http://www.vinitalyinternational.com) "Finest Italian Wines: 100 Great Producers," will unite international wine professionals on April 9th in the heart of Verona, offering them the unique opportunity to discover and taste the wines of the 100 Best Italian Producers, as selected by Wine Spectator. Since 1998 Vinitaly International travels to several countries such as Russia, China, USA and Hong Kong thanks to its strategic arm abroad, Vinitaly International. In February 2014 Vinitaly International launched an educational project, the Vinitaly International Academy (VIA) with the aim of divulging and broadcasting the excellence and diversity of Italian wine around the globe. VIA has now also organized its very first Certification Course with the aim of creating new Ambassadors of Italian Wine in the World.
# # #