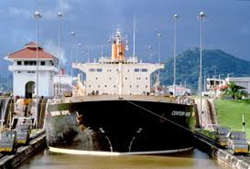 Seeing and personally experiencing the Panama Canal is truly an extraordinary experience for all ages.
(PRWEB) April 12, 2016
The Panama Canal is one of the world's most impressive engineering feats – and it's about to get even bigger. For more than 100 years, the Panama Canal has reshaped the way goods are shipped from one hemisphere to another, and now the Panamanian government is just a few months away from doubling its capacity.
With the announcement by the Panamanian Government that the expanded Canal will be inaugurated on 26 June 2016, now is the perfect time to witness history in the making, again! Panama Travel Consultants is now offering an exclusive Panama Canal Vacation Package that is perfect for first-time visitors to Central America. It is also perfect for seasoned world travelers. The 6-day / 5-night vacation is short enough for those limited on time yet it is still packed full of Canal experiences and Panamanian sights.
A Look at History in the Making
The Panama Canal has undergone immense changes since it opened in 1914. Seeing these monumental engineering achievements in person is an opportunity that may come only once in a lifetime. Panama Travel Consultants has crafted the perfect vacation package to get an all-access look into the Canal, the capital city, and the country's world-famous rainforests.
According to Scott Ludlum, owner of Panama Travel Consultants, "Seeing and personally experiencing the Panama Canal is truly an extraordinary experience for all ages. This is a unique time in the history of Panama and it is a travel opportunity that should not be missed."
The company's custom vacation package, called The Panama Canal Experience, is specially planned and coordinated every step of the way with top-rated Panamanian tour operators. From private transportation to deluxe lodging, the vacation package covers every minute of the trip, minimizing the planning that travelers have to do beforehand, while maximizing enjoyment and relaxation.
Something for Every Traveler
The most popular Central American vacation package gives an extraordinary taste of Panamanian culture to every type of international traveler:
For nature lovers, The Panama Canal Experience features a 3-night stay in the acclaimed Gamboa Rainforest Resort, where it's not uncommon to see capuchin monkeys, three-toed sloths, and a multitude of tropical birds. The vacation package also features a naturalist-guided tour through Soberania National Park, where travelers can experience the unique sights and sounds of one of the world's most diverse jungles.
For adventure seekers and Canal enthusiasts, Panama Travel Consultants takes tourists on a high-speed boat ride through Gatun Lake, on an aerial tram tour offering a bird's eye view of the Canal, and along the Panama Canal aboard the historic Railway. Travelers will even take a full-transit tour of the Panama Canal, beginning in the Pacific Ocean, passing through the famous Miraflores locks, and seeing post-Panamax construction in action before culminating the trip at Gatun Locks on the Atlantic side.
For city lovers, The Panama Canal Experience also includes a private guided tour through Casco Antiguo, the historic district of Panama City, and a day trip to Portobelo, a bayside town with cultural and historic sights, as well as great Caribbean-style restaurants.
Scheduling Your Vacation
To learn more about this extraordinary Panama Canal Experience, Visit the Panama Travel Consultants website at http://www.PanamaTravelConsultants.com; or call a custom travel specialist at 813-672-9384 .
About Panama Travel Consultants
Panama Travel Consultants provides private, customized vacation packages to Panama for international travelers to experience the exotic landscapes and stunning beauty of Panama. This boutique, family-run business prides itself on being culturally and socially responsible by supporting sustainable tourism practices and advocating the value and benefits of promoting cultural awareness. The business owners travel to Panama frequently to strengthen professional relationships with tour operators, hotels and other service providers to ensure Panama Travel Consultants exceeds the expectations of each and every valued client.
For more information about traveling to Panama or to plan a future trip, visit http://www.PanamaTravelConsultants.com today.
This was submitted via Click Ready of Atlanta.