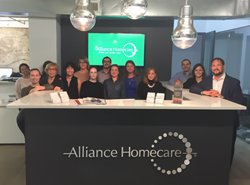 Our new collaborative space gives us a unique and very unusual opportunity to bring aging care advocates together in an industry that tends to be fragmented.
New York, N.Y. (PRWEB) April 11, 2016
Alliance Homecare – a concierge home health care provider serving individuals and families in New York City, Long Island, Westchester and the Lower Hudson Valley – has expanded to meet growing demand for its private home care services. To better service its clients and the community, Alliance has moved its headquarters to a new collaborative space across the street that is more than three times the size, which will also house five complimentary aging care organizations.
"This expansion gives us ample space to run our operations, enhance our service line and expand our capacity to meet the needs of our growing client base," said Greg Solometo, co-founder and CEO of Alliance Homecare. "Our new collaborative space also gives us a unique and very unusual opportunity to bring aging care advocates together in an industry that tends to be fragmented. Our home care services, although best in class, are really meeting the most basic of needs for our clients. The reality is that there are a wide variety of valuable ancillary services within the home care industry, all of which we are able to refer to, thanks to our strong network with dozens of reputable industry partners. We look forward to sharing a physical space with some of our most trusted referral partners with this expansion."
Alliance's newly renovated 4,985-square-foot headquarters is located on the sixth floor of 252 West 37th Street between Seventh and Eighth Avenues. The new location features a private meeting space where Alliance Homecare team members can discuss and collaborate on home care plans with clients and their families. There is also a dedicated training and skills assessment space for Alliance's specialized caregivers to take continuing education classes to ensure they are consistently up-to-date on certification and training for clients.
Joining Alliance Homecare are five organizations within its expansive referral provider network. These organizations have been thoroughly vetted and offer services that range from massage and yoga services, visiting house call dentists, and a geriatric psychologist to a professional care management firm and specialists in senior downsizing and estate dissolutions. Alliance Homecare has developed strong relationships with these referral partner organizations over the course of the past three years.
Alliance Homecare has welcomed the following organizations to join the firm in its new headquarters:

These organizations, along with a host of other medical professionals and service providers, are all available through Alliance Homecare and are dedicated to caring for the aging population.
"We have practiced a culture of collaboration since I co-founded Alliance Homecare a decade ago. Sharing a physical space with some of our partners is just a first step to providing a more fully integrated home care model for our clients and their families. Our hope is to strengthen our existing referral network and to build new relationships with sought-after aging care specialists so we can continue to deliver best possible care to our clients and their loved ones," Solometo said.
To learn more about Alliance Homecare, visit http://www.alliancehomecare.com. Alliance is also on Facebook, Twitter, LinkedIn and Google+. Testimonials from clients and families are available at http://www.alliancehomecare.com/testimonials.
About Alliance Homecare
Alliance Homecare is a concierge home health care company which offers an extensive range of high-quality private home care services to an elite client base in lower New York State which includes: the five boroughs of New York City, Nassau, Suffolk, Westchester and Rockland Counties. Co-founded in 2006, Alliance has a very selective hiring process, known as The Grandma Rule (SM), in which Alliance will only hire the highest caliber of registered nurses, home health aides and health care professionals. These specialized professionals provide best-in-class care for Alliance's clients and their loved ones while honoring a strict code of confidentiality. A Licensed Home Care Services Agency (LHCSA), Alliance's services include private duty nursing, home health aides, companions, professional care management, physical therapy, and nutritional counseling. To learn more, visit http://www.alliancehomecare.com.