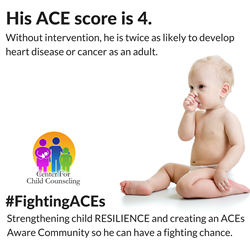 "...funding a project that gets out in front of an issue by intervening early in children's lives when treatment can be most effective is obviously very exciting for us." Eric Kelly, President of Quantum Foundation
Palm Beach Gardens, FL (PRWEB) April 14, 2016
Center for Child Counseling has received a two-year grant from Quantum Foundation, the largest health funder in Palm Beach County, to support their "Fighting ACEs" initiative, a trauma-informed model based on neuroscience that is working to heal the impact of toxic stress for babies and young children, while building the capacity of adults in the community to address this issue.
The Center for Child Counseling team will use the Quantum Foundation grant to fund prevention and early intervention efforts including direct services to children and families as well as educational training for teachers, child care workers, police officers, area nonprofits, foster care homes, and other professionals who work with children on how to recognize signs of Adverse Childhood Experiences and combat toxic stress in children. The goal being to create a system wide network of adult "buffers" who are trauma informed and "ACEs Aware."
"As a health foundation, we're committed to funding those projects that improve the 'whole person health' of people in our county," said Eric Kelly, President of Quantum Foundation. "But funding a project that gets out in front of an issue by intervening early in children's lives when treatment can be most effective is obviously very exciting for us."
Based on the results from a study that was conducted by the CDC and Keiser Permanente in the mid 1990s, and has since been replicated across the US with similar results, a direct correlation was discovered between Adverse Childhood Experiences (ACEs) and a decline in mental AND physical well-being in adulthood. The study narrowed down 10 ACEs and developed a survey to get a person's ACE "score." The score is determined by how many of the following experiences took place in a person's childhood: 1) Physical, 2) Sexual, and 3) Emotional Abuse, 4) Physical and 5) Emotional Neglect, having a parent or caregiver with 6) Depression/Mental Illness, 7) Substance Abuse, 8) is in Prison, being a 9) Witness to Domestic Abuse or Violence, and 10) Loss from the death or separation/divorce of a parent/caregiver. The higher the score the higher the probability of adversity in adulthood. Toxic stress that occurs as a result of ACEs can actually lead to changes in the architecture of a child's developing brain – making it harder for these children to learn, follow directions, control themselves, and think critically.
When left unaddressed, toxic stress from ACEs have been linked to a wide array of poor social, emotional, and health outcomes. For example, people with an ACE score of 4 are twice as likely to be smokers and seven times more likely to be alcoholic. Having an ACE score of 4 increases the risk suicide by 1200 percent. People with high ACE scores are more likely to be violent, be a victim of violence, have more broken bones, more depression, and more autoimmune diseases. People with an ACE score of 6 or higher on average die 20 years earlier than someone without any ACEs. The costs in hospitalization, mental health care, welfare services, law enforcement, special education, juvenile and criminal justice system, and lost productivity is more than $103 billion -- annually.
"Fighting ACEs (Adverse Childhood Experiences) is at the core of our mission," states Renée E. Layman, Chief Executive Officer at Center for Child Counseling, which aims to fill critical gaps in the system of mental health care for young children and their families. "Mental, emotional, social, and physical well-being are directly linked to what happens in early childhood, and with this generous grant, we'll provide multi-layered interventions and support for families and caregivers who are dealing with the effects of ACEs."
Because of the scale of the problem (the study revealed that two thirds of the population have at least 1 ACE), Center for Child Counseling plans on working alongside partners in the community, including pediatricians, school professionals, mental health providers, and other nonprofits and businesses, to achieve this goal. By working with very young children (prenatal to age 6) and the adults in their lives – parents, day care workers, police officers, teachers – they aim to change a lifetime of poor health outcomes.
"We cannot exist in silos so this needs to be a community-wide effort." Layman added: "Every young child deserves to grow up safe, loved, and healthy. We cannot wait for them to fall apart as adults when science shows that we can prevent a lifetime of adversity by working with them in childhood."
About Center for Child Counseling
The Center for Child Counseling is a nonprofit organization founded in 1999 to serve young, vulnerable children in Palm Beach County. The organization strives to strengthen and empower children and families through prevention, early intervention, and treatment services that support their social-emotional wellness and growth.
Over the past 16 years, the Center for Child Counseling has been recognized for its excellence in programming, including being the recipient of the Blue Foundation's Sapphire Award for innovation in community health and the National Easter Seals Award of Excellence. The organization is a Town of Palm Beach United Way partner agency, a member of the Children's Behavioral Health Collaborative, and was selected to implement the Child First Program, funded by the Children's Services Council of Palm Beach County. For more information, please contact info(at)centerforchildcounseling(dot)org or call 561-244-9499. To join the #FightingACEs movement visit http://www.centerforchildcounseling.org
About Quantum Foundation
Quantum Foundation is a private grantmaking organization that funds approved charities and certain government agencies in Palm Beach County, Florida. Quantum Foundation's mission is to inspire and fund bold initiatives that improve the health of Palm Beach County. The foundation's funding supports those organizations which provide health care, help people who need health care, and educate others about health care. According to the latest data compiled by the Florida Philanthropic Network (FPN), Quantum Foundation is the largest Palm Beach County-based health funder with 100% of grant dollars used to support local communities. Since its founding over seventeen years ago, Quantum Foundation has given away over $120 million in grants to more than 450 organizations.