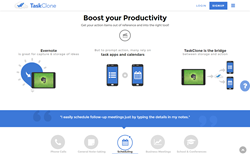 Our customers just want to use the tools they love to get the results they need.
Fremont, California (PRWEB) April 12, 2016
TaskClone, the startup that pioneered copying todos from Evernote to your task app today announces a load of new features to make every Evernote user more productive. TaskClone is now the only automation service to send any Evernote todo, note, event or Reminder to Asana, Todoist, Google Calendar or dozens of other productivity apps.
"We started TaskClone to end the frustration of forgetting action items in our notes", says TaskClone Founder and CEO, Troy Christmas. "But, when productivity and leadership guru Michael Hyatt called our service 'brilliant', we knew we were on to something more."
Starting today, the company expands beyond integrating Evernote checklists with task management apps to now allowing you to schedule events and Evernote Reminders in Google Calendar and convert note titles to tasks in dozens of task apps. Each task contains a link back to your note in Evernote so you can remember the full context of the task. For those with multiple task apps, you can associate a unique Evernote tag with up to 10 different task apps or projects so your tasks go where you need them.
TaskClone's service works automatically in the background by connecting to Evernote's Cloud API so there's no app to download and you can use any Evernote app on any device. The new features also include long-awaited support for personal and shared notes within Evernote Business.
"Our customers just want to use the tools they love to get the results they need" says Christmas. "We are excited to provide the new services our users have asked for so they can be more productive from their meetings, phone calls, lectures and more."