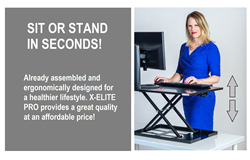 The standing desk is one approach at reducing this sedentary time, especially hunched over a computer which can wreak havoc on the back and neck. - Dr. Michael Martin
Fairfax, VA (PRWEB) April 11, 2016
Award-winning standing desk manufacturer Stand Steady disagrees with last month's news that standing desks may not be healthier than sitting all day. This news was based on a review published by Cochrane Library.
Based on hundreds of reviews of Stand Steady's ergonomic standing desks, employees benefit physically and mentally when a standing desk is introduced to their environment. Stand Steady customer Sarah R. reviewed the X-ELITE PRO sit/stand desk on Amazon and said her hips no longer bother her.
Deanne J., another Amazon reviewer of the X-ELITE PRO desk explains that she sits at her desk all day long. Her lower back began aching and the muscles in the back were so tight as was the upper lumbar. In the standing position, she would work on tightening her core while holding her shoulders back...all in good posture, which is the key to reducing and eliminating lumbar pain.
Dr. Jos Verbeek, a health researcher at the Finnish Institute of Occupational Health and one of the scientists on the report claimed, "what was actually found is that most of it is, very much, just fashionable and not proven good for health." Washingtonian Top Doctor Dr. Michael Martin cautions against jumping to any conclusions. "What is known is that people are becoming increasingly sedentary at work with this having negative effects on health. The standing desk is one approach at reducing this sedentary time, especially hunched over a computer which can wreak havoc on the back and neck." So what does the available science say then? Dr. Martin says, "the review noted that very limited evidence is available so far regarding the benefits of a stand up work station and it simply cautions that more rigorous study is needed."
And these studies are ongoing and have begun to suggest benefits that extend to mental health and improved cognition and focus. Even children may benefit from a learning environment that incorporates these desks. A recent study conducted by researchers at Texas A&M shows that students using standing desks were engaged in their studies seven minutes more per hour than the group who used a traditional desk. That is more learning time and certainly could be a lot more time to get work done if the impact is the same on adults.
Because Stand Steady's number one priority is the customer experience, they strive to deliver ergonomic standing desks, at an affordable price point. Standing desks aren't just the fashion, with reduced back pain and better mental health of workers, standing at work could be the new normal.
To learn more, visit http://standsteady.com/ today.
Company Information:
About Stand Steady
Stand Steady is located in the greater Washington, DC area and is a leading manufacturer of affordable, ergonomic, adjustable standing desks. Stand Steady has sold thousands of desks nationally and internationally. Standing at work provides a solution to the negative impacts of sitting all day, such as back pain and increased rates of cardiovascular disease and diabetes. Stand Steady is a Certified WOSB (Woman Owned Small Business); for more information about Stand Steady, please visit the company's Web site at http://standsteady.com/.