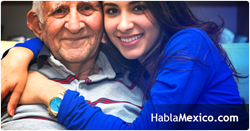 I'm glad to have found HablaMexico.com. Before that, I used to go to stores who carried telephone cards and buy them every week to talk to my sister in Mexico. (Dolores Herrera on Trustpilot.com)
Atlanta, GA (PRWEB) April 11, 2016
HablaMexico.com, the service dedicated to Mexican expats worldwide, has revealed some interesting data about the habits of Mexicans abroad. The data is related to their geo-preferences, long-distance communication type and family immigration. The study carried out by HablaMexico.com was carried out on thousands of hundred of customers using HablaMexico.com for their international calls and top ups to Mexico: http://www.hablamexico.com/
According to this report, the largest Mexican communities are in the USA, Canada, Spain and France. Mexicans were the largest expat wave in the USA according to a report powered by MigrationsMap.net in 2007. At that time they were over 9.30 million registered as migrants.
According to the recent HablaMexico.com report, Mexicans call home every day. Mexican expats use the long distance phone communication extensively over other means like instant messaging or SMS. One reason could be that they are pure extroverts due to their culture and ethnic temper, and phone calls are the closest to face to face encounters due to the Voice input which is more physical than texting. The second reason is that families in Mexico, especially parents or grandparents, do not have the computational skills required or the practice for digital communication. That is mainly because of the lack of focus on PC and Internet within the older generations, as well as the fact that laptops, computers and tablets are not so affordable.
There is another reason why Mexicans make international calls to Mexico daily. The rates on HablaMexico.com are really low. One can pay less than 1 cent to make an international call. More precisely, 0.5 ¢/min to call landlines in Mexico, and 1.9 ¢/min to call a mobile there. With $2 only, one gets 400 minutes to call landlines in Mexico, and the credit never expires. That is a context that facilitates their natural drive to talk to those they care about in their home community, whether friends or family members.
Not only do Mexicans call Mexico every day from abroad, but they also take plenty of time for updates, news and small talk. According to the study conducted by HablaMexico.com customers, Mexican expats spend 12 minutes on average on a call with someone in Mexico. It may be due to their talkative extrovert nature, as well as the low rates on international calls. On HablaMexico.com, for example, people have the lowest rate one can imagine or wish for in order to call Mexico landlines and mobiles. That is possible due to the Mexico Unlimited monthly plan that offers any number of minutes needed for $4.99 / month. This is a service for the most talkative Mexicans abroad who want to pay less than 0.5 ¢/min to call Mexico from anywhere in the world.
Peak times when Mexicans get most enthusiastic about calling home are around their favourite holidays. In the last three years, top three most talkative holidays are: Día de la Madre (Mother's Day) in May, Father's Day (Día del Padre) in June, and the most awaited Christmas. There are at least three reasons why these are the most chatty time on long-distance calls. Mexicans feel closer to family and friends on Christmas, plus they are free from work, so they also have more time to talk. New Year is close to Christmas, so they send their New Year wishes on their Christmas call. Also, Christmas and Mother's Day come with promotions on Voice Credit. Another reason for the popularity of these holidays would also be that mothers and fathers are priceless and well respected among Latin Americans.
There seems to be some migration trends in the Mexican families according to HablaMexico.com recent research. Some Mexicans migrate to the most developed countries like the USA, Canada, as well as countries in Western Europe. There are also others in the family who move to countries like Honduras, El Salvador and Guatemala.
Mexican-origin expats support their families and friends back home, in Mexico, constantly. They send money and gifts monthly. For example, they recharge mobiles in Mexico online once a month on average. Partly because it takes few seconds only and the credit gets immediately, partly because there are frequent promotions that allow them to send free credit without any hassle and any extra investment. For example, there are monthly bonuses on top ups to Movistar that consist of up to 50 minutes for international calls as well as 100 free SMS. Top ups to Telcel also benefit of extra credit for times to times. Besides these operators, there are other that welcome credit from abroad: Unefon, Iusacell, Nextel.
HablaMexico.com is an interactive website designed by KeepCalling, a global telecommunications company registered in 2002 in USA. Presently, KeepCalling provides its services to hundreds of thousands of consumers and businesses, with a focus on customer satisfaction. KeepCalling has been listed by Inc 5000 as one of the fastest growing companies in the USA for 5 consecutive years. In 2015 the company registered a revenue increase of over 200% from 2011 to 2014.