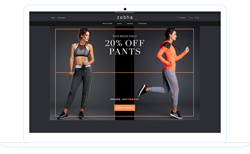 It's humbling to have all the behind-the-scenes work on the site's redesign acknowledged by industry peers.
Philadelphia, PA (PRWEB) April 11, 2016
WebLinc, the commerce platform provider for the fastest growing online retailers, is proud to announce FAM Brands' Zobha brand has been named a 2016 Top Innovator by Apparel Magazine. The annual award recognizes retail brands that move the industry forward in interesting and unexpected ways in areas like marketing, merchandising, and technology.
"We're very honored to have our new site recognized by Apparel Magazine," said FAM Brands' Ecommerce Team Lead Justin Zarabi. "It's humbling to have all the behind-the-scenes work on the site's redesign acknowledged by industry peers. Our customers reaction to the site has been very positive and this accolade is a major bonus."
WebLinc and FAM Brands' creative teams partnered to redesign all aspects of Zobha's site, http://www.zobha.com, to complement the brand's newly defined, edgy design direction and aesthetic. In order to highlight Zobha's activewear designs, the new site features lookbooks, video content, and improved photography.
Zobha's revamped site invites customer to interact using WebLinc's exclusive Hearting feature and advanced reviews engine. Far beyond traditional reviews options, customers can educate would-be customers on how garments fit, a product's style and comfort levels. Utilizing user-generated content (UGC) to produce detailed personal reviews, customers can upload pictures and share details including location, product size purchased, body type, and preferred workout.
"It's great to see FAM Brands' efforts honored by Apparel Magazine," said Darren C. Hill, CEO and co-founder of WebLinc. "Zobha's site looks and performs as well as it does because it blends great design with features today's online shoppers want. FAM Brands has been steering the activewear category for decades offline and it was our job to bring that success online. We're eager to see where our partnership with FAM Brands takes us next."
Apparel Magazine will feature FAM Brands' Zobha and other 2016 Top Innovator in a special report appearing on its website and in its 9th annual "Top Innovators" special May issue. To honor all Top Innovators, an invitation-only special reception and dinner will be held at the 16th annual Apparel Executive Forum from October 5-7 in Fort Lauderdale, Florida.
About WebLinc
WebLinc is the commerce platform for fast growing online retailers. Mid to large-size retailers consistently outpace their competition with the modern, agile technologies of the WebLinc Commerce Platform and the company's strategic expertise. Based in Philadelphia with satellite offices in New York, Los Angeles and Toronto, WebLinc powers commerce sites for dynamic, high-growth retailers including Rachel Roy, Sanrio/Hello Kitty, Urban Outfitters, Inc.'s brands Terrain and BHLDN, U.S. Polo Assn., Stila Cosmetics, Jeffers Pet, and others. To learn more, visit http://www.weblinc.com or follow @WebLinc.