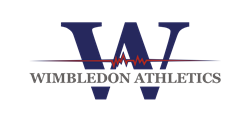 The doctor said to me, Mrs. Johns, your son is that kid that drops dead from this. It really hit me hard that I could have lost my son had it not been for Wimbledon Athletics' testing.
Boca Raton, FL (PRWEB) April 08, 2016
Wimbledon Athletics, the industry leader in on-site diagnostic testing for athletic programs, identifies hypertrophic cardiomyopathy in student athlete Kenneth Johns after administering cardiovascular testing at Winthrop University, potentially saving his life. Hypertrophic cardiomyopathy (HCM), a disease in which the heart muscle becomes abnormally thick, is the leading medical cause of sudden cardiac death in young athletes.
Kenny, a sophomore sprinter, has been active in sports since middle school, and he played football and ran track all during high school before joining the track team in college. Throughout this time, Kenny has never experienced any symptoms that could indicate a cardiovascular issue and has passed every sports physical he has taken. The only cause of concern pertaining to his heart was a murmur diagnosed years ago that was subsequently deemed not serious enough to prevent Kenny from participating in sports.
Wimbledon Athletics administered EKG, echocardiography, and vascular ultrasound testing on Winthrop student athletes to identify unsuspected cardiovascular abnormalities. Kenny's echocardiogram confirmed hypertrophic cardiomyopathy, and he was immediately pulled from track practice and advised to cease any type of physical activity, which could cause sudden cardiac arrest, or even sudden death.
On recommendation from a local cardiologist, Mrs. Johns and Kenny will seek treatment options at both Medical University of South Carolina (MUSC) and Duke University Heart Center. Mrs. Johns is grateful for the testing Wimbledon Athletics performed on her son to identify his condition and for potentially saving his life. She recalls what the cardiologist said to her upon seeing Kenny's images. "The doctor said to me, Mrs. Johns, your son is that kid that drops dead from this," she states. "It took this one sentence for me to realize how serious this was, and it took everything in me not to break down in tears in front of Kenny. After I dropped him off at the dorm, it really hit me hard that I could have lost my son had it not been for this testing. I had to pull myself together so I could drive home."
What is striking about Kenny's case is the dominant gene for this disorder in his family that was somehow missed in all pre-participation physical evaluations leading up to the cardiovascular testing. A simple phone call between Mrs. Johns and Bradley J. Artel, M.D., F.A.C.C., Chief Medical Officer at Wimbledon Health Partners, revealed that both Mrs. Johns' father and brother are living with IHSS, a more specific type of cardiomyopathy, and all the male members on her father's side have experienced heart conditions, sometimes fatal. Kenny's own diagnosis has prompted Mrs. Johns to schedule a cardiology appointment for her youngest son, Alan, who at 16 is active in sports and was also diagnosed with a heart murmur, like Kenny, two years ago. Mrs. Johns has also urged her siblings to have their active teens tested for heart abnormalities as soon as possible. The testing done by Wimbledon Athletics has impacted more than just Kenny's life; extended members of his family will now be evaluated for cardiac abnormalities so they can address any issues before anything detrimental happens.
Mrs. Johns expresses her deepest gratitude to both Winthrop University and Wimbledon Athletics for bringing cardiac testing to campus and identifying this deadly condition before sudden cardiac arrest could take her son's life. She is now a big advocate for more schools to implement a similar testing program. "I don't understand why this testing isn't required at all schools," she says. "Don't they know that these simple tests can save lives? As a mother, I'm so thankful to have my son here, and I think about what that cardiologist said to me—about Kenny being that kid that drops dead—every single day of my life."
About Wimbledon Health Partners:
Wimbledon Health Partners formed in 2013 to meet the need for on-site diagnostic testing at physicians' offices. The industry leader, Wimbledon Health Partners provides physicians with state-of-the-art, in-office testing to detect circulatory conditions and cardiac abnormalities using vascular ultrasound and echocardiography.
About Wimbledon Athletics:
Wimbledon Athletics, the newest division of Wimbledon Health Partners, is pioneering the way for high schools, colleges, universities, and sports facilities to test students for vascular conditions and for unsuspected cardiac abnormalities to help minimize sudden cardiac death among young athletes.
For more information on how your office or school can partner with Wimbledon Health Partners, visit http://www.WimbledonAthletics.com or call us at (855) 200-8262.