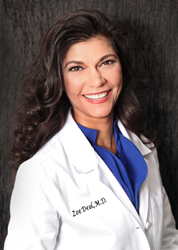 Greenbelt, MD (PRWEB) April 14, 2016
The Center for Vein Restoration(CVR), the nation's largest, physician-led, vein treatment medical organization, is proud to announce expansion to Lansing, MI. CVR's newest location is slated to being seeing patients on April 18, 2016 and will be located at 5123 West St. Joseph, Suite 201, Lansing, MI 48917.
CVR names Dr. Zoe Deol as practicing physician at this new location.
"Detroit was the backbone by which this country was supported for decades, and I saw her through one of the biggest blows since the depression. She is a city of hope and tenacity, and this is due entirely to its people.: Dr. Deol continues, "The autoworkers are the legs upon which this city stands. It is my personal passion to provide them, and all of the equally hard working residents of Detroit and the surrounding cities, the care they so rightfully deserve."
The opening of the Lansing, MI location marks the third Center for Vein Restoration location in Michigan.
ABOUT ZOE DEOL, MD, FACS
Dr. Deol is a delightful addition to Center for Vein Restoration's roster of quality physicians. She has become an integral part of the academic venous world and been invited to join prestigious national medical organizations. Some of her achievements include:

A graduate from Albion College and Michigan State University
Completed her General Surgery Residency at The Cleveland Clinic in Ohio
Completed a six-year general surgery residency at William Beaumont Hospital in Royal Oak, MI
Sub-specialist in laparoscopic bariatric surgery by completing a Fellowship at Loyola University Medical Center in Chicago
Completed mini-fellowships in bariatric surgery; one in Pittsburgh with the nation's leading bariatric surgeon, Phillip Schauer, MD (who is now the chief of bariatric surgery at The Cleveland Clinic); and the other in Melbourne Australia with the internationally renowned Paul O'Brien, MD, FRACS, MBBS (who is a past council member of the International Federation for the Surgery of Obesity).
ABOUT VENOUS INSUFFICIENCY
Venous insufficiency, the cause of varicose veins and spider veins, indiscriminately affects between 30 – 40 million Americans. Numerous factors including age, weight, prolonged sitting or standing, genetics or a history of DVT (blood clots) can increase the risk of developing this all-to-common and often under-diagnosed disorder. Treatment options range from simple lifestyle changes like exercising or taking frequent breaks from prolonged sitting or standing to an array of minimally-invasive, outpatient procedures.
For more information, visit http://www.centerforvein.com/vein-conditions-health-information/types-of-vein-conditions/
ABOUT CENTER FOR VEIN RESTORATION
Having performed its first procedure in 2007 under President and CEO Dr. Sanjiv Lakhanpal, Center for Vein Restoration (CVR) has since become a nationally recognized leader in the treatment of varicose and spider veins. Dedicated to relieving leg pain, treating the vascular cause of severe leg wounds, and eliminating unsightly veins, CVR's minimally invasive procedures allow patients to look better, feel better, and live better. With 50 locations and counting, they have assembled the most qualified and experienced team of physicians, researchers, and staff to serve patients across Maryland, Virginia, Connecticut, Michigan, New Jersey, New York, Pennsylvania, and Washington, DC.
For more information, visit http://www.centerforvein.com. You may also contact Nicole McMillan at nicole(dot)mcmillan(at)centerforvein(dot)com or 240-965-3277.