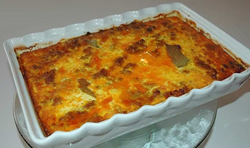 I am so happy to be chosen as the winner. This is the first time I have tried cooking African food and it turned out amazing!
London, UK (PRWEB UK) 11 April 2016
Celebrity chef Craig Higgins, who presented the BBC's Safari Kitchen has chosen his competition winner. Salaam Ahmad, 27, from Swindon has been officially announced the winner of chef Craig Higgins's cooking competition with his Babotie dish, based on a recipe from Craig's book 'Elephant in the Kitchen'.
The budding British-Asian chef has never attempted to cook African food before or even entered a cooking competition before. He wins the chance to learn African-inspired cooking in a one-on-one session with the celebrity chef.
Craig's focus on African-fusion cooking has set him apart from many other celebrity chefs and given him a niche that has attracted worldwide attention. Entrants were invited from all over the world to share in Craig's love of African fusion food at attempt one of his recipes. Along with photos of their dish, entrants included their own version of Craig's recipe and notes on their dish. After hundreds of responses, the final five were chosen. This was whittled down to one winner, all chosen by Craig himself.
When asked how he came up with the winning recipe, he said: 'I was flicking through Craig's book, and this was the one that looked the tastiest. I wanted to push myself out of my comfort zone with a complex dish. I eventually found the one to try - it was his Babotie recipe.'
Salaam said it took him five attempts to perfect it, but eventually he got it just right. He recalled: 'I finally got it perfect, but then I realised that my phone was not working, so before it went cold I quickly ran next door and asked my neighbour to use his professional camera. Luckily he agreed and I took the winning photos!' With the help of neighbour, James Dickinson, 22, he took the quality photos that did his winning dish justice and helped him win.
He impressed the judges with his take on the traditional African dish. It won on looks, precision and flare. Craig commented on Salaam's attempt: 'I chosen Salaam Ahmad as the winner after seeing how he mastered this traditional African dish, and infused it with Indian spices. I would be proud to serve this at my restaurant and I look forward to spending time with him'.
Salaam Ahmad, 27, from Swindon has won the chance to spend the day training with Craig Higgins. Craig has recently returned from Africa, where he has been filming his soon-to-be released new cooking show. He and Salaam have arranged to hold their one-on-one session in the coming month. Salaam has said he is open to pursuing a career as a chef, and has embraced this opportunity to work with one of the world's top chefs. View his winning photos on the Salaam Ahmad's Twitter page.