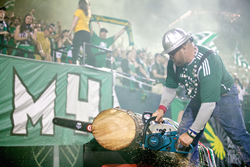 Dutch Bros partners with the Portland Timbers as the official energy sponsor.
GRANTS PASS, Ore. (PRWEB) April 11, 2016
Dutch Bros has officially become the exclusive coffee and energy drink partner of the Portland Timbers starting with the 2016 Major League Soccer Season.
This partnership deal will give the Oregon based company the opportunity to align with a team who holds the same values and culture at their core. It will allow for Dutch Bros to continue to connect with an audience that disrupts stereotypical definitions used daily.
"The Timbers are a great partner for us," said Travis Boersma, Dutch Bros Coffee Co-founder. "We love the commitment to community, youth and most importantly fun."
"We are excited to team up with Dutch Bros, and we look forward to a great partnership with such a like-minded company," said Mike Golub, President of Business Operations for the Timbers.
Dutch Bros thrives on welcoming all and providing an amazing experience at all their locations, and the Portland Timbers are very much the same. Both entities want to blow people's mind with an experience that they will never forget surrounded by people who are extremely passionate and driven about what they do.
Dutch Bros will be serving coffee drinks, Dutch Bros Blue Rebel™ energy drink and hot chocolate in the stadium.
Dutch Bros is excited for this opportunity to plant deeper roots in the Rose City and enhance their relationships in the Portland community. The Portland Timbers fan base is a force unlike any other; Dutch Bros believes that this partnership will enable both Dutch Bros and Timbers fans alike to become a force to be reckoned with within the Rose City and surrounding areas to positively impact their community.
###
About Dutch Bros Coffee
Dutch Bros Coffee is the country's largest privately held, drive-thru coffee company, with over 260 locations and over 5,000 employees in seven states.
Dutch Bros serves specialty coffee, smoothies, freezes, teas and a private-label, Dutch Bros Blue Rebel™ energy drink.
The rich, proprietary coffee blend is handcrafted from start to finish. Every ingredient is measured, every process timed, and every cup perfected.
With a mission of, "Making a Difference, One Cup at a Time," Dutch Bros donates over $2 million annually to nonprofit organizations and local causes selected by local owner-operators.
Dutch Bros Coffee is headquartered in Grants Pass, Ore., where it was founded in 1992 by Dane and Travis Boersma, brothers of Dutch descent.
To learn more about Dutch Bros, visit http://www.dutchbros.com, like Dutch Bros Coffee on Facebook or follow @DutchBros on Twitter.
FOR MEDIA ONLY
Contact: Jen Wheatley, pr(at)dutchbros.com, 541.226.7787