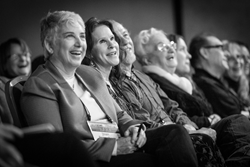 If you have a sense that there's more to life than what you've been experiencing, then DreamBuilder LIVE is the place for you to be
Baltimore, MD (PRWEB) April 14, 2016
DreamBuilder™ LIVE is an inspiring 3-day immersive experience where bestselling author, Mary Morrissey, guides attendees through the three stages of dream building -- Bridging, Blueprinting and Building -- the proven, reliable and repeatable formula for taking your dreams from imagination into reality with ease, speed and grace.
Hundreds of heart-centered, success-minded people from all walks of life and from all around the world will be in attendance -- all working together to design a life they love in a safe, supportive and fun environment, free from the distractions of day-to-day life.
This extraordinary 3-day event takes place in Baltimore, Maryland from June 3-5, 2016 at the Renaissance Baltimore Harborplace Hotel, located at 202 East Pratt Street. Tickets are normally $1,197, but for a limited time, tickets are available for 65% savings off of the regular price. A limited number of discounted hotel rooms are also available.
Mary Morrissey has invested the last 40 years in studying transformational principles and the spiritual side of success. She is the author of two best-selling books, No Less Than Greatness and Building Your Field of Dreams, which became a PBS special. She's also been featured in The Moses Code, Beyond The Secret and several other popular films.
"Your life is precious, and the power that breathes you and causes your heart to beat each and every day is always seeking to bring you closer to a life of greater happiness, good health, prosperity and fulfillment," says Mary Morrissey. "If you have a sense that there's more to life than what you've been experiencing, if you know that you'd like to be more, do more and give more, and you know that your time is NOW, then DreamBuilder LIVE is the place for you to be."
For the full event itinerary and registration details, visit: http://dreambuilderlive.com/friendsandfamily
About LifeSOULutions That Work, LLC
LifeSOULutions That Work, LLC is a premier personal development and life coaching company owned by bestselling author, Mary Morrissey, and based in Simi Valley, California. Through our programs, online workshops and live events, we have helped empower millions of people from all walks of life and from all around the world create a life they love living. To learn more, visit: http://www.marymorrissey.com/